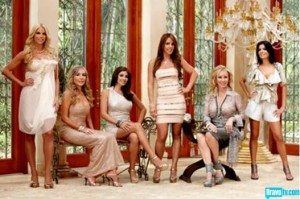 Bravo gives viewers an escape from the grueling winter and turns up the heat with the premiere of "The Real Housewives of Miami" on Tuesday, February 22 at 10pm ET/PT.  The newest series of the Housewives franchise adds a unique flavor as the show goes inside this cultural hot spot.  "The Real Housewives of Miami" follows six of the most connected and influential women of Miami as they live their lives to the fullest in this sunny city where the party never stops.  Moving to a new date, "The Real Housewives of New York City" season four will air later this spring.
"The Real Housewives of Miami" cast includes:
Who is Lea Black from The Real Housewives of Miami?
Deeply loved, occasionally uncompromising, but universally respected, this Texas native is leaving an indelible mark on Miami. Married to one of the top criminal defense attorneys in the country, Roy Black, and raising their 9-year-old son, Lea has a reputation as a community leader. She raised money for President Barack Obama during his 2008 presidential campaign as well as many other local Florida politicians, and spends a majority of her time working towards the success of her own beloved charity.
Who is Marysol Patton from The Real Housewives of Miami?
Miami native Marysol Patton is one of Miami's most sought-after women both socially and professionally. Divorced 10 years has allowed her to put all energy into creating and running one of the premiere public relations firms in town, the Patton Group. Armed with her bedazzled iPhone and a hot female staff, this PR maven definitely knows how to throw a party for her A-list clients. When Marysol's not working, she finds time to hang with her mother Elsa, a character in her own right.  Elsa considers herself a "seer," not a psychic and she's a hot commodity amongst A-listers looking for spiritual guidance.
Who is Adriana DeMoura-Sidi from The Real Housewives of Miami?
This Brazilian bombshell is a full-time mom and a highly respected art curator who is always on the go. Coming off a traumatic divorce, Adriana wasted no time meeting her new fiancée, Fredric. Still her relationship is always on the rocks, as Adrianna's flirtatious ways and fiery personality seem to get her in trouble and leave her peers gossiping.
Who is Alexia Echevarria from The Real Housewives of Miami?
This "Cuban Barbie" holds the pulse of Miami's Latin culture.  As the executive editor of Venue Magazine, Alexia spotlights the latest fashion trends as well as up-and -coming Latin film and TV stars.  Alexia loves to spend time at her Miami Beach home with her husband Herman, and admits she is at times more of an older sister than a disciplinarian to her two sons from a pervious marriage.
Who is Cristy Rice from The Real Housewives of Miami?
As a Miami native who is beyond proud of her roots, Cristy's sassy Latina flair is evident in everything she does. Recently divorced from NBA superstar Glen Rice, Cristy has entered a new phase of her life, being single and living out loud. When she's not out dancing at night or dealing with relationship drama, Cristy's life is jam-packed with being a single mom to her three children and running her own clothing store.
Who is Larsa Pippen from The Real Housewives of Miami?
This wife of NBA superstar Scottie Pippen shares the unofficial title of "Hottest NBA Wife" with her friend Cristy Rice. A snarky Lebanese beauty, Larsa boasts that she's successful at everything she does, including playing wife and mother to her four young kids. When she's not busy turning her three little boys into star athletes, shopping for her one-year-old princess, or firing nannies, Larsa is happy to spend a little time on herself.
Watch The Real Housewives of Miami Video Preview Teaser
Will you watch The Real Housewives of Miami when it premieres on Bravo, February 22? Let me know your thoughts in the comments section.
Also, remember to follow me on Twitter for more Real Housewives of Miami scoop.
Comments
comments