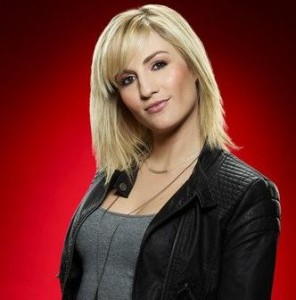 We already told you how to audition for NBC´s The Voice, and how Cee Lo Green and Adam Levine from Maroon 5 joined as coaches , Blake Shelton joining The Voice and about Christina Aguilera joining The Voice too.
But now there´s another piece of the puzzle no one saw coming… The Voice will have a teaser online correspondent! That role will be filled by Alison Haislip. Alison's latest updates can be found at the newly launched website for The Voice or via her Facebook and Twitter.
Who is Alison Haislip, the Online Teaser Correspondent for NBC The Voice?
Meet Alison – Online correspondent Alison Haislip reveals there's a millions ways to stay connected to The Voice.
The Voice Behind The Scenes Video: Wardrobing the Band
A secret look backstage as the house band gets fitted for their stage outfits.
NBC revealed that Alison Haislip (G4's "Attack of the Show!") has been named as the new backstage online and social media correspondent for the network's musical competition series "The Voice" (premiering Tuesday, April 26, 9-11 p.m. ET). Additionally, the show will provide viewers with unprecedented access to the competing artists via NBC.com and social media engagement. The on-air show will also feature a "V-Room" where artists will talk with Haislip (@alisonhaislip) post performance and engage with fans via social media. And coaches — Christina Aguilera (@TheRealXtina), Cee Lo Green (@ceelogreen), Adam Levine (@adamlevine) and Blake Shelton (@blakeshelton) — will be using real-time interaction and feedback from viewers in their decision-making as they manage their teams.
The news was announced today by Paul Telegdy, Executive Vice President, Alternative Programming, NBC and Universal Media Studios.
"Alison's revolutionary role will give front row access to fans and bring them face-to-face with our contestants and coaches," said Telegdy. "We want our artists to be ambassadors for themselves and the show and Alison is the ideal person to lead the charge online and bring fans an unprecedented and ongoing interactive experience."
"I'm thrilled to be a part of 'The Voice' especially in this particular capacity. It gives me the opportunity to combine one of the things I'm most passionate about — music, with something that's already a huge part of my life — social media," said Haislip. "And the best part is, I get to experience it all as a fan who has been thrown into this wonderland, inside-world of the show. I believe the outcome will be rather unprecedented."
Will you watch The Voice premiere on NBC Tuesday, April 26 at 9/8c? Let me know in the comments section.
Also, remember to follow me on Twitter for more The Voice scoop.
Comments
comments