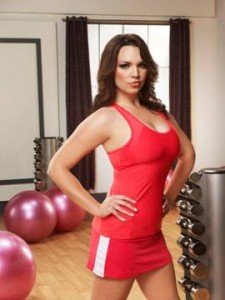 In The Style Network's new docu-series, "Wicked Fit," Katie, who is retired from the circuit, is now whipping the next generation of beauty queens and suburban moms into perfect form with her boutique women-only gym, Katie Boyd's Miss Fit Club.  With equal parts tough love and laughter, Katie is a force to be reckoned with as she helps her clients reach their fitness goals while also looking for ways to expand her budding business.  The 10-episode, one-hour series "Wicked Fit" premieres Sunday, October 23 at 9:00 PM ET/PT, following the series premiere of "Glam Fairy" at 8:00 PM ET/PT on Style.
"'Wicked Fit' combines all of the elements that are ideal for Style – the series is transformational and at its core is Katie Boyd, a loud, witty personality with strong convictions and a take-no-prisoners attitude, and viewers will relate to and be amused by her," said Sarah Weidman, Senior Vice President, Development & New Series, The Style Network.
New England's slang for "extreme" – wicked – perfectly describes both Katie's personality and her workouts.  Whether it's prepping Miss Vermont for her swimsuit competition or getting Boston's socialites into shape for their yacht parties, Katie definitely knows how to motivate the ladies to look their best.  Through tough love, discipline and the occasional cursing to get her point across, her brutal workout approach actually helps build her successful business.
Assisting Katie keep her clients in line are her best friend and assistant, Monique, along with Monica, one of Katie's most successful former clients and her close personal friend.  Monica and Monique have a simmering feud that's now on full boil.  They fight for Katie's attention and constantly trash talk each other. Monique helps Katie with her client's personal training, and Monica helps Katie with branding and marketing.  Both former beauty queens, Monica has taken home a crown while Monique has never made it past first-runner-up, so her jealousy fuels the rivalry.
Katie's family, including her mom Theresa and dad, Mike, also help out with the business, but her mom's meddling usually gets Katie riled up.  After successfully making it through the first year as a new business, word of mouth has spread in the Boston area about Katie Boyd's Miss Fit Club and Katie's no-holds-barred exercise technique that delivers results.  With her list of clientele steadily growing, Katie debates whether she should find a bigger location for the gym and even considers franchising in other cities.  As she looks for innovative ways to expand her thriving business, from planning an exclusive one-year anniversary party, to hosting a "Pop-Up Pageant" to highlight her clients' success stories, to shooting a workout video, to writing a cookbook with her unique and healthy recipes, the importance of making the right decisions at the right time are paramount.
However, what really keeps Katie motivated is the possibility of finding true love. One of her main priorities is to settle into a healthy relationship with a great guy.  After being betrayed by her fiancé, she lost hope that she will ever find love again.  Now, she is finally ready to open her heart and jump back into the dating scene but faces some obstacles in her path.  In the past, building a relationship has taken a back seat to her work.  Expanding her business should be a priority, but can she learn to better balance her entrepreneurial drive with her desire to find a quality mate?
Katie Boyd is a specialist in pageant preparation with a personal training career spanning over a decade. In her own pageant competition, Katie was chosen as a Top 10 finalist at both the Miss Massachusetts Teen and the 2004 Miss Massachusetts (America) Pageant. Her Miss America preliminary titles include Miss Taunton 1999, Miss Fall River 2000, Miss Bristol County 2002 and Miss New Bedford 2004. She currently trains contestants for both the Miss USA and Miss America pageants. Her famous clientele includes players of pro football and cheerleaders.  An Expert Rating Certified Sports Nutritionist, Katie holds a Personal Training Certification through International Sports Sciences.
"Wicked Fit" is produced by Renegade 83 ("Blind Date," "One Man Army," "Man, Woman, Wild"). David Garfinkle, Jay Renfroe and Mark Perez serve as Executive Producers and Sarah Weidman serves as Executive Producer for Style.
Will you watch Wicked Fit on Style Network? Let me know in the comments section.
Also, remember to follow me on Twitter for more Wicked Fit scoop.
Comments
comments