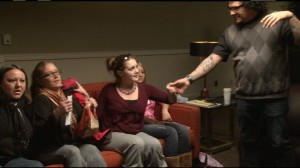 After thirteen season and over a hundred episodes, Docu reality show Intervention is getting cancelled by A&E and will unveil its final five episodes starting June 13 at 9PM.
"As 'Intervention' comes to an end, we're proud to have paved the way for such an original and groundbreaking series," said David McKillop, Executive Vice President of Programming for A&E Network and BIO Channel. "We're honored to have been a part of the 243 interventions since its premiere in March of 2005, leading to the 156 individuals that are currently sober to this day."
The final season of "Intervention" will feature some of the most intense and gripping stories of the series. The premiere episode introduces Jessica, a 29-year-old woman squatting in an abandoned house with no electricity or running water on the West side of Chicago. Jessica copes with her past by injecting heroin, a drug that was introduced to her by her own father.
The final season 14 will also feature Dana, a mother addicted painkillers and crack cocaine after a tragic fire turned her world upside down; Gina, a 34-year-old woman who uses heroin to escape the memories of her past; Kaila, a young girl suffering from a fatal eating disorder; Ryan, a 23-year-old who turned to drugs as a way of coping with his mother's sudden suicide; and Eric, the once funny and generous son who has transformed into a junkie that hustles, steals and pawns to scrape together enough money for his fix.
What do you think? Are you sad Intervention got caneclled? Follow me on Twitter for more scoop on shows getting renewed like Intervention, or check the complete and updatable lists of renewed shows of 2013 and cancelled shows of 2013.
Photo Credit: GRB Entertainment
Comments
comments