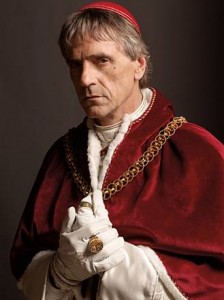 Showtime much anticipated show The Borgias is getting near and near. I really can´t wait to see Emmanuelle Chriqui on TV, But now Oscar winner Jeremy Irons gets the role of Rodrigo Borgia/Pope Alexander VI in Showtime The Borgias. (BTW: You can watch Jeremy Irons on Jimmy Fallon´s).
Meet the original Godfather. Rodrigo Borgia is the ruthless and decadent patriarch of The Borgia family who with the help of his children, bribes, buys and muscles his way into the papacy to become Pope Alexander VI in 1492.  During his notorious reign, accusations ranged from adultery to murder, but nothing could deter his maniacal hunger for power, wealth and mistresses.   Cloaked in controversy and despised by many, the Borgias are the original crime family who centuries later, served as the inspiration for the iconic Corleone Family in Mario Puzo's classic novel The Godfather.
The series is produced as a Canadian-Irish-Hungarian Treaty co-production.
So, are you going to watch The Borgias with Jeremy Irons as Pope Alexander VI Rodrigo Borgia, or may I say a movie star and icon playing an epic role?
Let me know in the comments section.
Also, remember to follow me on Twitter for more casting news about The Borgias.
Comments
comments