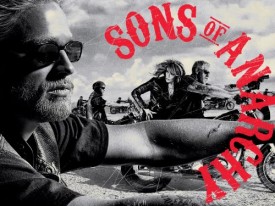 More info to update lists for renewed shows on 2011 and all the cancelled shows on 2011, in this case good news for the hit cable drama from creator Kurt Sutter, since FX renewed Sons of Anarchy for season five, while in the middle of the fourth season airing.
The Season 4 premiere September 6 became the most-watched program in FX history with 6.5 total viewers so, as you can figure out, this was not a tough decision for FX to renew Sons of Anarchy and give the show a fifth run.
Season five renewal order for Sons of Anarchy consists of 13 episodes and will begin production early 2012 for next year run.
FX president John Landgraf said on the statement about Sons of Anarchy renewal: "Everyone at FX is very grateful to Kurt Sutter, his many writing, directing and producing collaborators and his masterful cast for making such a compelling and beautifully crafted show. It is no small challenge to bring the themes of a great, ancient play like Hamlet into a wholly original television setting and to tell this complex story in a way that is both riveting and accessible to a broad audience."
What do you think? Are you happy FX renewed Sons of Anarchy for season five? Let me know in the comments section.
Also, remember to follow me on Twitter for more cancelled and renewed as Sons of Anarchy shows scoop.
Comments
comments