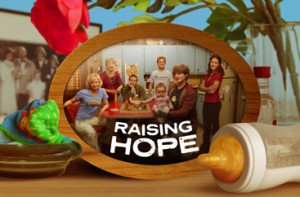 We are reviewing all the cancelled shows and renewed shows of 2011. And the year came out in its first week already giving way to a couple renewals. Second week of the year, is full of renewals. Fox renews Raising Hope for a second season. In this case, the day after Pretty Little Liars renewal order for second season, Secret Life of the American Teenager renewal, Castle renewal, Grey´s Anatomy renewal, Private Practice renewal, Modern Family renewal, Cougar Town renewal and The Middle renewal.
Raising Hope is Fox's highest-rated new series this season with an average of a 3.0 rating among adults 18-49 (including DVR viewing), boosted by a big Glee lead-in. It is also the only new fall Fox series to make it beyond the original order. So, even the show is not a juggernaut or a big hit, it measured well, and wasn´t so expensive, therefore, Fox renews Raising Hope.
"Raising Hope has emerged as a comedic standout: wickedly smart, hilarious and full of heart," Fox's entertainment president Kevin Reilly said about the My Name is Earl creator newest show.
So, what do you think about Raising Hope renewal for second season? Will you watch it? Let me know in the comments section.
Also, remember to follow me on Twitter for more Cancelled and renewed shows news such as this renewal for Raising Hope by Fox.
Comments
comments