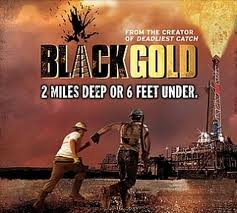 We are reviewing all the cancelled shows and renewed shows of 2011.
And today we are posting a lot of news: As the other side of the coin for One Life to Live cancellation and All My Children getting cancelled also and CMT cancelled Working Class and Bravo cancelled Real Housewives of Washington DC, we get some good news too: Nickelodeon renews iCarly for season five and now Adult Swin renewed Eagleheart for season two. OWN renewed four shows Fox renewed Bob´s Burguers and HBO renewed The Ricky Gervais Show and Syfy renewed Scare Tactics while TruTV renewed Hardcore Pawn. But is that all? Not even close to being.
TruTV renewed Black Gold too. For a fourth season run too.
Black Gold is a documentary-style reality television series that chronicles three oil drilling rigs in Andrews County, Texas, 30 miles northwest of Odessa. It is produced by Thom Beers, creator of Deadliest Catch and Ice Road Truckers. The Black Gold theme song is sung by country music star Trace Adkins. The title "Black Gold" comes from a slang term for oil.
And now, the fourth season renewal order for Black Gold came. What do you think about TruTV renewing Black Gold for season four? Let me know your thoughts in the comments section.
Also, remember to follow me on Twitter for more Cancelled and renewed as Black Gold.
Comments
comments