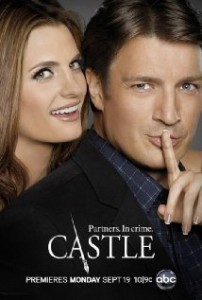 More information to fill the lists for cancelled shows of 2012 and renewed shows of 2012.
And this one was expected for sure for the rabid fanbase and the casual viewers of the show. ABC renewed Castle for season five, after a great finale that had its "Finally!" moment in the end of season finale and not having a continuation for it would´ve meant near apocalypse for the network.
ABC renews Castle for season five and it´s well deserved, since the show has been one of, if not the best, dramedy on broadcast television. And surely top three if you put it next to Psych and whichever is your other favourite on the ranking.
What is Castle About? Plot Synopsis
After a serial killer imitates the plots of his novels, successful mystery novelist Richard "Rick" Castle gets permission from the Mayor of New York City to tag along with an NYPD homicide investigation team for research purposes.
Almost immediately, the Caskett fans started growing (Castle and Beckett as a couple), and finally, season five looks promising for it.
What do you think? Are you happy that Castle got renewed? Let me know in the comments section.
Also, remember to follow me on Twitter for more scoop about shows getting renewed as Castle did.
Comments
comments