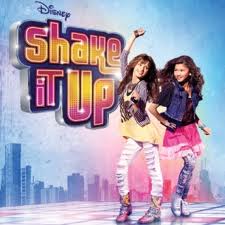 More information to fill the lists for cancelled shows of 2012 and renewed shows of 2012.   Talk about a no brainer! Disney Channel renewed Shake it Up for third season. This hit show is a huge success not only in the US but in multiple countries too, it is not only a success as a TV show but with the soundtrack and spinoffs and all other stuff. Disney Channel knows how to do it properly, it is not its first hit, as you all know, so now, with this one, it was a certainly expected move from Disney Channel to renew Shake it up for the third season. 
Shake It Up is an American sitcom airing on Disney Channel in the United States. The series premiered on November 7, 2010. Created by Chris Thompson and starring Bella Thorne and Zendaya, the show follows the adventures of Cece Jones (Thorne) and Rocky Blue (Zendaya) as they star as background dancers on a local show, Shake It Up Chicago. It also chronicles their misadventures on- and off-set, and their troubles and rising social status at school. Davis Cleveland, Roshon Fegan, Adam Irigoyen, Kenton Duty and Caroline Sunshine also are other main cast members in the series.
What do you think? Are you happy that Shake it up got renewed? Let me know in the comments section.
Also, remember to follow me on Twitter for more scoop about shows getting renewed as Shake it up did.
Comments
comments