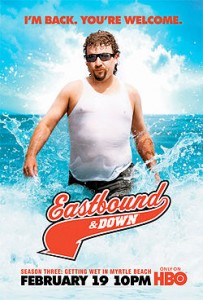 Excerpt: You will read about Eastbound & Down renewal by HBO in this article.
This day has been a busy one for HBO with the renewal of The Newsroom and the renewal of True Blood, that are all added to the lists of cancelled shows of 2012 and renewed shows of 2012.  And in this case, a cult favourite is coming back after it was pressumably getting to an end. HBO renewed Eastbound & Down and I think most were thinking this wasn´t happening, given how the show ended last season.
When last season ended, Danny McBride was talking about how both him and Jody Hill were ready to make jokes involving people "who doesn´t have ridiculous haircuts". So, apparently it took some convincing to do from HBO folks to earn a renewal for Eastbound & Down season four. But that´s good news in my eyes… more Kenny Powers and more jokes. Good times, and good decision, that I bet many fans will applaud the premium cabler for making.
What do you think? Are you happy HBO renewed Eastbound & Down for a new season? Let me know in the comments section.
Also, remember to follow me on Twitter for more shows getting renewed as Eastbound & Down did scoop.
Comments
comments