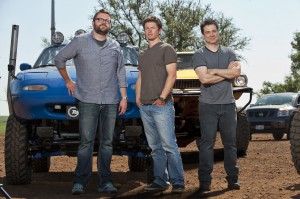 More information to fill the lists for cancelled shows of 2012 and renewed shows of 2012. And today it seems like broadcast and cablers joined forces to make me work a lot. (Ok, world does not turn around me… I get it). But there´s so many things to write articles about. I´ll start with good news: HISTORY renewed Top Gear US for season three.
HISTORY announced today that the new season of the U.S. version of Top Gear is beginning production.  The second season of the critically-acclaimed and popular series broke into the millionaire's club with 1.1 million Adults 25-54 and 18-49 (+30 and +22 vs. S1, respectively) and is the youngest skewing series on HISTORY. Season Two was seen by nearly 60 million viewers.
Top Gear is hosted by comedian Adam Ferrara, champion race car driver Tanner Foust and racing analyst Rutledge Wood.
In their third season Tanner, Adam and Rutledge will be embarking on some of the most epic journeys on the planet, and exploring our own great nation while testing the limits of the world's most prestigious – and infamous – automobiles.   From the Swamps of Louisiana to Utah's Monument Valley and the Alaskan wilderness, if it has four wheels, these guys want to drive it (and if they're Adam, wreck it!). This season Adam, Tanner and Rut will race against speed boats, snowmobiles and jets, test the most modern police cars (hint: it's not the Crown Victoria) and see how far you can REALLY get on one tank of gas.
Featuring super-cars, extreme stunts and challenges, car reviews and celebrity interviews Top Gear is the home for anyone with a love of cars. The U.S. version is chock-full of high-adrenaline action entertainment as it tracks the colorful history of the automobile as well as the eccentric adventures of its hosts with Top Gear's customary wit and humor. The series harkens back to HISTORY's very first day, and the network's very first program ever to air, Automobiles: Corvette.
What do you think? Are you happy that Top Gear US got renewed? Let me know in the comments section.
Also, remember to follow me on Twitter for more scoop about shows getting renewed as Top Gear US did.
Comments
comments