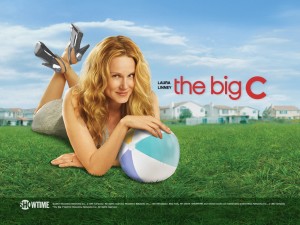 On a day when there was movement on Showtime, because of its TCA presentation, where Dexter fans were treated to an extensive look at season seven premiere, where Claire Danes confirmed that her character Carrie in Homeland is not pregnant as she is, and the pregnancy won´t the translate to fiction and rather written and acted around it. And the same day as Weeds fans got a treat on how emotional series finale will be, Showtime also renewed The Big C for a fourth and final season joining our lists of  cancelled shows of 2012 and renewed shows of 2012.
The Big C renewal for season four works as originally planned when the show first premiered, since it was thought to be a four seasons story to be told, so it should not surprise anyone that this renewal is for a final run. Also, it is not surprising that the show won´t extend over that timeline, since after a very solid first season, numbers for the show stumbled for seasons two and three.
What do you think? Are you happy Showtime renewed The Big C or sad that it´s for a final season? Let me know in the comments section.
Also, remember to follow me on Twitter for more shows getting renewed as The Big C did scoop.
Comments
comments