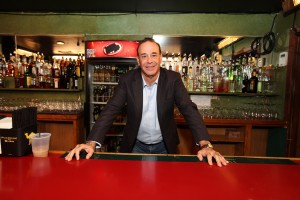 More news on the front to add to the lists of cancelled shows of 2012 and renewed shows of 2012. In this case from thr likes of Spike that renewed Bar Rescue for season three. It appears as if these kind of shows have become more successful or important due to the crisis; and they are growing in number and in ratings: Shark Tank on ABC, Kitchen Nightmares, Restaurant Impossible, Bar Rescue and Hotel Hell are just some of the shows that try to make small business owners and entrepreneurs successful. I like that trend in shows instead of just some of the nonsensical reality shows out there.
Spike TV has greenlit a third season of 20 episodes of the network's popular original series, "Bar Rescue." From the producers of "The Biggest Loser," "Extreme Makeover: Weight Loss Edition" and "Flying Wild Alaska," the series follows one of the country's top nightlife consultants, Jon Taffer, wielding his nearly three decades of experience in the food and beverage, hotel and hospitality industries to help give failing establishments one last chance to transform themselves into vibrant, profitable businesses.
"Bar Rescue" is among the recent crop of original series that have successfully managed to expand and broaden the network's audience base. The second season, premiering on Sunday, July 29 has averaged a robust 1.3 million viewers and improved the timeslot by 100% with Men 18-49 and 89% with Persons 18-34.
For Season 3, Taffer will visit a different failing establishment in cities all around the country. His approach may ruffle feathers along the way, but Taffer pulls no punches and values bottom lines above hurt feelings. Owners and employees he believes are standing in the way of success are urged to check their egos at the door, as he employs a proven scientific approach to solving the problems befalling bars.
What do you think? Are you happy Spike TV renewed Bar Rescue? Let me know in the comments section.
Also, remember to follow me on Twitter for more shows getting renewed as Bar Rescue did scoop.
Comments
comments