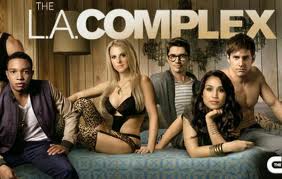 This one I missed earlier, and caught it thanks to the official twitter handle of the show, that is helping me keep the lists of cancelled shows of 2012 and renewed shows of 2012. So The LA Complex got renewed a while back on March by its original carrier from Canada for a supersized second seasons (well, supersized compared to the freshman run of only six episodes). And early last month, on June 6th, The CW renewed The LA Complex, to carry it on the US. But, listen, the good news aren´t stopping… since I missed the announcement earlier, now there´s not a long wait… The LA Complex is coming back for its second season on Tuesday July 17th at 9/8 C on The CW.
Another good thing is… if you missed the first season of The LA Complex, catching up takes very little time, since you can watch all six episodes in say… a weekend, and then you are good to go.
Do good news end there? Nope, Krista Allen is on season two of the show as a regular.
What do you think? Are you happy The CW renewed The LA Complex for a new season? Let me know in the comments section.
Also, remember to follow me on Twitter for more shows getting renewed as The LA Complex did scoop.
And also, you can catch the preview video of the second season of The LA Complex here
Comments
comments