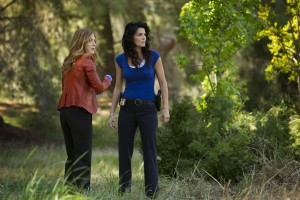 This is one of the yay moments that make completing the  lists for cancelled shows of 2012 and renewed shows of 2012 rewarding. TNT renewed Rizzoli & Isles for season four.
TNT has ordered a fourth season of its hit drama Rizzoli & Isles from Warner Horizon Television. The series has drawn 7.1 million viewers in its new Tuesday 9 p.m. timeslot and ranks as summer's #1 returning scripted series on basic cable. TNT has ordered 15 episodes of Rizzoli & Isles, with the fourth season slated for 2013.
Angie Harmon and Sasha Alexander star in Rizzoli & Isles, which was developed for television by executive producer Janet Tamaro from characters created by best-selling crime novelist Tess Gerritsen. In the series, Harmon plays Jane Rizzoli, a tough-as-nails Boston police detective, and Alexander is Maura Isles, a smart, impeccably dressed medical examiner from a privileged background. Despite being complete opposites, the two women share an offbeat chemistry and strong working relationship that lets them solve complex murder mysteries in the city of Boston.
Rizzoli & Isles also stars Lee Thompson Young as Detective Barry Frost, Jane's squeamish, computer-savvy partner; Bruce McGill as Sgt. Detective Vince Korsak, Jane's steady old-school Homicide Squad teammate; Jordan Bridges as Jane's brother, Frankie Jr., who dreams of becoming a detective like his sister; Brian Goodman as Lt. Detective Sean Cavanaugh, the head of the Boston Police Detective department; and Lorraine Bracco as Angela, Jane's handful of a mother.
"Anchoring a new night in its third season, Rizzoli & Isles has proven itself to be a strong and enduring hit, not only in terms of the great storylines and performances, but also in terms of the show's stellar ratings," said Michael Wright, president, head of programming for TNT, TBS and Turner Classic Movies (TCM). "We're thrilled that Rizzoli & Isles will continue to be a vital part of the TNT lineup."
Rizzoli & Isles comes to TNT from Warner Horizon Television and is executive-produced by Janet Tamaro of Hurdler Productions and Bill Haber of Ostar Productions. Michael Katleman also serves as an executive producer.
After premiering in 2010 with basic cable's biggest ad-supported series launch ever, Rizzoli & Isles went on to average a record 8.8 million viewers in its first season and more than 8.4 million in its second. Moving to a new night this summer, the show has averaged 7.1 million viewers in Live + 3 delivery, with the season premiere climbing to 8 million viewers in Live + 7. The show ranks as summer's top returning scripted series on basic cable in total viewers. Among key demos, Rizzoli & Isles has averaged 2 million adults 18-49 in Live + 3, with 2.5 million adults 25-54.
Rizzoli & Isles has earned two Gracie Awards from the Alliance for Women in Media Foundation, one for Tamaro as writer/executive producer and a second to Harmon for her performance as Jane Rizzoli. Tamaro has also earned a Women's Image Network (WIN) Award and Prevention magazine's Healthy TV Award for her work on the show.
What do you think? Are you happy that Rizzoli & Isles got renewed? Let me know in the comments section.
Also, remember to follow me on Twitter for more scoop about shows getting renewed as Rizzoli & Isles did.
Comments
comments