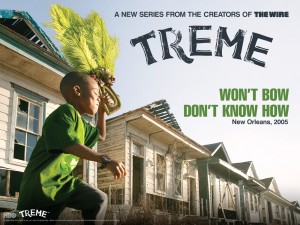 Another show coming to join the lists of cancelled shows of 2012 and renewed shows of 2012, in this case, with a bit of a bittersweet flavour, as HBO renewed Treme for season four and final. So, on one hand, we get Treme renewed, but on the other hand, it´s for a final season, that will also be a shortened one.
Series co-creator David Simon announced at a Saturday screening at the Joy Theater in New Orleans and TVLine reported it. "HBO, upon viewing the 10 that we gave them said  they want to see the end of the story," Simon said at the Saturday screening. "They fought very hard to give us half a loaf. We're going to take it and run."
So, as I said, bittersweet… on the sweet part of the deal, the full cast is going to come back for Treme´s fourth and final season, on the bitter part, we may only get five or six more episodes next year, instead of a full crop. But, just to be looking at the glass half full, there are still close to twenty more episodes of Treme to enjoy.
What do you think? Are you happy HBO renewed Treme? Let me know in the comments section.
Also, remember to follow me on Twitter for more scoop on shows getting renewed as Treme did.
Comments
comments