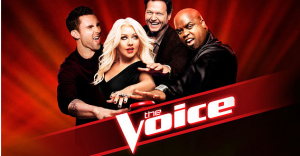 When you have a hit on your hands, you know which side of the lists of cancelled shows of 2012 and renewed shows of 2012, so NBC renewed The Voice for season four and five. And not only that, but if you are The Voice and manage to add to an already stellar cast of coaches in Adam Levine, CeeLo Green, Christina Aguilera and Blake Shelton the likes of Usher and Shakira, you know you will still have a hit next year. And that´s why NBC renews The Voice for season four and five, and will make it a twice a year ran show.
The renewal was announced today by Robert Greenblatt, Chairman, NBC Entertainment.
"This pickup will assure the many dedicated 'Voice' fans that this innovative show will continue to bring some of the most talented new voices to the world's attention through all of next year," said Greenblatt. "With the addition of Usher and Shakira as rotating coaches to join Christina, CeeLo, Adam and Blake in the next cycle, we know that this incredibly addictive program will remain even more relevant as we move forward through this exciting season. My hat is off to John de Mol, Mark Burnett, and everyone who produces this classy and highly entertaining show for us."
What do you think? Are you happy NBC renewed The Voice? Let me know in the comments section.
Also, remember to follow me on Twitter for more scoop on shows getting renewed as The Voice did.
Comments
comments