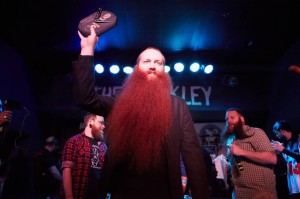 Somehow I missed this one earlier, and now it´s coming back, so, in order to have the lists of  renewed shows of 2012 and cancelled shows of 2012 complete, I need to add this one: IFC renewed Whisker Wars for a second season set to premiere November 23rd.
Former two-time World Champion Jack Passion finds himself at a crossroads after losing his world renowned title last year. Shaken by the upset, Passion takes out the hair clippers and contemplates whether he should fight his way back to the top or kiss the world of competitive bearding goodbye.
Last season on Whisker Wars, Team USA failed to dethrone Germany at the World
Championships. Two?time world champion, USA's Jack Passion, lost his grasp on the
coveted Full Beard Natural title. Team USA also imploded as the Austin Facial Hair Club
seceded from the "union" to establish their own internationally recognized team.
This season, it is every man for himself as tensions reach an all?time high with each
competitor vying to put themselves in the best position to take home gold at this year's
premiere international event, the German National Championship, in Bad Schussenried.
The Austin Facial Hair Club, led by Bryan Nelson, Allen Demling, Alex LaRoche and Miletus Callahan?Barile, crafts an ambitious plan to establish themselves and their beards at the top of the competitive circuit. Former world champion Jack Passion finds himself at a crossroads and must decide whether to stand alone and fight his way back to the top or
step back from the pressures of competitive bearding for good. Players Aarne Bielefeldt
and Myk O'Connor reemerge and shake things up to take another stab at earning follicular
glory.
Accompanying this season of Whisker Wars, IFC.com has created a new animated web
series, Total Bearding Network. Each one?minute webisode covers breaking news from the competitive bearding world through veteran former champion, Ken Guntruck, and a facial hair?challenged beard admirer, Pete Lewis. Coverage from these crack reporters will
include an in?depth look at spring training, an inspiring interview with the first woman
allowed in professional bearding and a performance?enhancing drug scandal ripping
through the bearding world. The Total Bearding Network is voiced by IFC's 2012 "Adopt?AComic" Chris Gethard (The Chris Gethard Show, Human Giant, FunnyorDie.com) as Pete Lewis and Jim Santangeli (CollegeHumor Originals, FunnyorDie.com) as Ken Guntruck. It is written and directed by Dan Meth (CollegeHumor Originals).
What do you think? Are you happy IFC renewed Whisker Wars? You can also follow me on Twitter for more scoop on shows getting renewed like Whisker Wars has.
Comments
comments