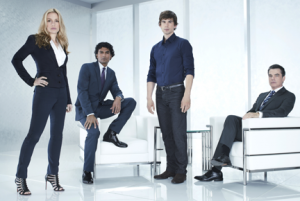 On the same day as White Collar and Royal Pains joined the lists of cancelled shows of 2012 and renewed shows of 2012, USA renews Covert Affairs for season four of the hit spy drama.
Season four renewal order of Covert Affairs consists on sixteen episodes that will start filming in Toronto in 2013, and set to premiere next summer.
Golden Globe®-nominated Piper Perabo stars as Annie Walker, a young CIA operative whose exceptional linguistic skills and killer instinct make her invaluable to the Agency in the popular spy caper COVERT AFFAIRS. The series, which also stars Christopher Gorham, Kari Matchett and Peter Gallagher, returns on Tuesday, October 16 with six all-new episodes that have Annie seeking revenge in Russia for the devastating tragedies that rattled her world. From Universal Cable Productions, COVERT AFFAIRS is executive produced by Doug Liman and David Bartis through Hypnotic and written and executive produced by Matt Corman and Chris Ord.
The show still has the back six episodes of season three to air, and this has been, so far, an exhilarating season, filled with action, drama and romance for Annie and Auggie.
What do you think? Are you happy USA renewed Covert Affairs? Let me know in the comments section.
Also, remember to follow me on Twitter for more scoop on shows getting renewed as Covert Affairs did.
Comments
comments