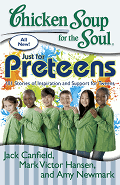 Folks at Chicken Soup for The Soul sent me their latest releases, as they usually do, and that just made me relax in my couch to have a nice time reading these short stories.
Reading this book made me think: When I was that age, I was not a preteen, I was a kid! PreTeens is a new notion, a new concept, and this boys and girls who are not kids anymore, yet they are not teenagers either, needed some clarification. And it is probably because of the fast lanes our lives go by these days, that forced scholars to come up with this PreTeens age group.
And as such, they have their own worries, problems, joys, and all; and that is exactly what Chicken Soup for The Soul Just for PreTeens is about!
What is Chicken Soup for the Soul: Just for PreTeens about?
101 Stories of Inspiration and Support for Tweens
Being a preteen is harder than it looks! School is more challenging, bodies are changing, relationships with parents are different, and new issues arise with friends. But preteens can find encouragement and inspiration in this collection of stories by other preteens, just like them, about the problems and issues they face every day. Chicken Soup for the Soul: Just for Preteens will help readers as they navigate those tough preteen years from ages 9 to 12 with its stories from others just like them, about the highs and lows of life as a preteen. It's a support group they carry in their backpack!
How to purchase Chicken Soup for the Soul: Just for PreTeens?
You can probably find it at any book store, but you can also buy it online at Amazon where you can even take a little sneak peek of the book.
What do you think? Will you read Chicken Soup for the Soul: Just for PreTeens?
Let me know your thoughts in the comments section.
Also, remember to follow me on Twitter or contact me for book reviews. And you can also read a review of Chicken Soup for the soul: Just for PreTeens in Spanish.
Or the reviews of other Chicken Soup for the Soul books:
Review of Chicken Soup for The Soul: Grieving and Recovery
Review of Chicken Soup for The Soul: New Moms
Review of Chicken Soup for The Soul: Country Music
Review of Chicken Soup for the Soul: My Dog´s Life
Review of Chicken Soup for The Soul: My Cat´s Life
Comments
comments