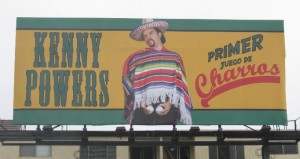 We are reviewing all the cancelled shows and renewed shows of the season.
And despite this season, new shows are falling like crazy. NBC already cancelled Outlaw, ABC Family cancelled Huge, Fox cancelled Lone Star, ABC cancelled My Generation, and also cancelled The Whole Truth, and MTV cancelled The City in its second season. HBO is doing things right and renews Eastbound & Down for season three.
I already told you ten reasons to watch Eastbound & Down, and now you have one more reason, since HBO renews Eastbound & Down, giving it more time to keep developing a great show.
This decision should not have been very difficult, since Eastbound & Down's second season premiere audience was bigger than series premiere by a 150%, at 1.4 million, making HBO easy to give the show a vote of confidence, and adding to the renewal or Bored to Death, and the renewal of Boardwalk Empire, its entire Sunday lineup is safe.
So, what are your thoughts about HBO renewing Eastbound & Down for season three?
Are you happy HBO renewed Eastbound & Down? Will you watch it next season?
Let me know in the comments section.
Also, remember to follow me on Twitter for more info on cancelled and renewed shows, such as this renewal for Eastbound & Down by HBO.
Comments
comments