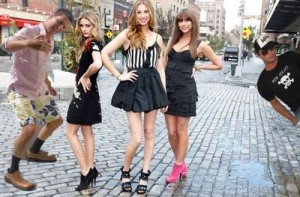 We are reviewing all the cancelled shows and renewed shows of the season.
And this season, new shows are falling like crazy. NBC already cancelled Outlaw, ABC Family cancelled Huge, Fox cancelled Lone Star, ABC cancelled My Generation, and also cancelled The Whole Truth.
And today was not a happy monday for many, since there´s another cut, when the announcement that MTV cancelled The City and won´t have a third season.
The City will not be returning to MTV for season three. The show's star, Whitney Port, spoke on air with Ryan Seacrest Monday morning about the fate of the series.
"As of right now it doesn't really look like we're doing it anymore," Port said on Seacrest's KIIS-FM radio show.
The spin-off of the network's wildly popular series, "The Hills," developed a stable viewership in its two seasons, but failed to perform as well as its juggernaut predecessor.
The City cancellation by MTV is somewhat a surprise, since it was not very solid in the ratings  department, but was not weak either.
What do you think about The City cancellation order by MTV? Are you sad MTV cancelled The City?
Let me know in the comments section.
Also, remember to follow me on Twitter for more info on cancelled and renewed shows, such as this cancellation for The City by MTV.
Comments
comments