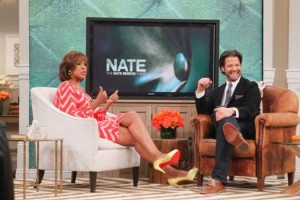 We already told you about this week´s Nate Berkus show episodes, and all about No Money Makeovers episode, now it´s time to check out what´s next on The Nate Berkus Show.
And what is next is great!
America's best friend and host of "The Gayle King Show," welcome's Nate's viewers into her freshly decorated, New York City apartment, and shares how she has adapted to her move from the suburbs of Connecticut.
On the Thursday, March 3rd edition of "The Nate Berkus Show" (check your local listings or visit www.TheNateShow.com), Gayle and Nate discuss their mutual friend, Oprah Winfrey, and what will soon be her last episode of "The Oprah Winfrey Show."
Best Quotes from Gayle King on The Nate Berkus Show
Gayle King Quote On her new home in New York:
Gayle: "I forgot where we were…you, me, Oprah. Someplace we were talking, and you said 'Your home should be a reflection of you.' So, I can travel all around the world, all around the country and see homes that are bigger than mine, nicer than mine, but I never feel when I go back, 'Oh I wished I lived there,' because I think  my home is a happy place."
Gayle King Quote On the last taping of "The Oprah Winfrey Show":
Gayle: "I'm going to be there. I think it's harder on me than it is on her, because Nate, as you know, she's doing the Hula. If you called her right now and said 'how many shows?' she would say, '42 and…' whatever it is. But after 25 years, and 25 years at number one, and now launching OWN, she's ready to go on to something, but every time I see a show I say 'this is the last time we'll ever see Favorite Things. This is the last time we'll ever see Oprah's Oscar Show,' and she goes, 'will you stop saying that!.. I'm in a good place.'"
Whatdo you think about Gayle King on Nate Berkus Show? Let me know in the comments section.
Remember you can enter Nate Berkus Show Sweepstakes Giveaway Contest, too, and you can follow me on Twitter for more Nate Berkus Show scoop.
Comments
comments