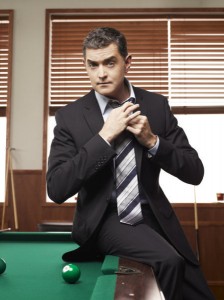 Psych comes back with Indiana Shawn and The Temple of the Kinda Crappy, Rusty Old Dagger, and the episode following midseason premiere is Lassiter´s centered! The episode is called Heeeeere's Lassie and the episode airs Wednesday March 7 10/9 C on USA with the Guest Stars being Lou Gossett Jr. and Sara Rue. Any episode centered on Detective Carlton Lassiter so far has been outstanding, and I cannot say that this one is an exception. If you are a Psych fan, you cannot miss it. If you are not a fan… well, you don´t deserve a TV set in your living room. There, I said it.
What is Psych S06E11 Heeeeere´s Lassie About? Plot Synopsis
After Lassiter moves into a new condominium building and strange things start happening to him, he is forced to hire Shawn and Gus to figure out what could be causing the supposed paranormal disturbance.
best quotes and pop references from  Psych S06E11 Heeeeere´s lassie
Shawn: It´s in the safest place ever
Gus: Did you put it in the safe deposit box?
Shawn: Even better, a Thundercat
Amy: Like something like that can still be on the market
Amy: You are kind of super awesome
Shawn: My name is Shawn Spencer, psychic detective for the
SBPD. This is my partner Fellatio Del Toro.
Amy: Copy that Poncherello
Rosemary has a "baby"
Rosemary´s husband tells Shawn and Gus: Who ya gonna call?
Lassiter: You can run but you can´t hide
Lassiter: What the hell is this, Spencer?
Shawn: That my friend is Gazpacho. It´s very refreshing
Lassiter: Sorry I tried to kill you with my sword, Guster
Mr O´Hara: I was in Tanzania
Gus: Were you climbing the Kilimanjaro?
Shawn: Don´t make up words Gus… what were you doing in Australia?
Nicknames from Psych S06E10 Heeeeere´s lassie
Nicknames for Gus: Fellatio Del Toro – Eddie Adams from Torrance
Nicknames for Lassiter: Poncherello
Nicknames for Henry: Papa Bear
One thing left to know is When is Shawn going to propose to Jules?
What did you think about Psych Heeeeere´s Lassie? Let me know in the comments section.
Also, remember to follow me on Twitter for more Psych scoop and spoilers.
And you can also check other Psych tidbits, such as Shawn and Gus Nicknames, Psych Pop References from season 1, Psych Pop References from season 2, Psych Pop Reference from season 3, an interview with James Roday and Dule Hill I did, among others.
Comments
comments