Article By Guillermo Paz
Ok, if you are following a little this site, you´ll already know Psych is by far one of our favourite shows on TV right now; and we are giving it quite some coverage.
Well, now it´s time to do a list of the nicknames and aliases that Gus and Shawn have on the episodes of the show.
As you fans all know, Shawn usually introduces Burton "Gus" Guster by a different name each time, and sometimes he even changes his own name to an alias or nickname.
And for all of those who asked… I did the complete List of Gus Don´t Be Quotes and the Complete List of I´ve Heard it Both Ways!
Recently we had the chance to participate in an interview with Psych Stars Dule Hill and James Roday, and they talked about Aliases and Nicknames:
Dule Hill:    For myself it's always been the one I think from Season 1, which may have been the first or second episode, where he called me Gus "Silly-Pants" Jackson. You know, I – because when he first threw that out it kind of caught me off guard first of all because I believe that was one that was just off the top of his head. And it cracked me up. I just thought it was a hilarious thing. And, you know, we're big fans of Stoney Jackson over here Stoney and the Silly-Pants, you know.

James Roday:    …kicked it all off. So I think it's always going to be special for us since everything sort of sprang from that.
They definitely come in the script now but any time we can top what's there, we don't hesitate. Everyone's in on the fun now.
Complete List of Burton "Gus" Guster Alias and Nicknames on Psych
S01E03: Peter Panic
Die Harder, Matt, Bighead Burton, Fingers, Homeskillet, Big Baby Burton, Burt the Billowy Bear, Curtis, Blackstar, Chocolate Columbo, Magic Head, Spellmaster, SuperSmeller or SuperSniffer, Slicks, Gus T.T. Showbiz (The Extra T is for Extra Talent), Ovaltine Jenkins, Schoonie "U-Turn" Singleton, Vernest Lambert Watkins, Bud (from "The Cosby Show"), Nick Nack, Bruton Gaster, Lavender Gooms, Lemongrass Gogulope, Squirts MacIntosh, Weepy Boy Santos, Stewart Lee, Dr. Mc (Khoesan tongue clicking sounds) Took, François, Galileo Humpkins, Gus "Silly-Pants" Jackson, Fearless Guster, Shmuel Cohen, Methuselah Honeysuckle, Shutterfly Simmons, Paddy Simcox, Chesterfield McMillan (and wife), Felicia Fancybottom, Tan, Ernesto Agapito Garces con y a de Abelar, Longbranch Pennywhistle, (Shawn calls Gus: Professor Know-How, MC No Help, Dr DoNothing, and the store employee calls him "Mannequin Boy", Chocolate Thunder is a password Gus uses, because he used to call himself that,  not sure if they count as aliases or not), Scrooge Jones, D'Andre Pride, Hummingbird Saltalamacchia, Anthony Wally Ali, Taye Diggs, Art Vandelay, Dequan "Smallpox" Randolph, Trapezius Milkington, Sterling Cooper, Burton "Oil Can" Guster, Hollaback Atcha, Limpking… (Gus interrupts him), Slicks, Jazz Hands, Winston Zeddemore, Gus Brown, John Slade, Detective Miles, Greg, G-Wiz, Doughnut Holschtein, Ron Davis, Bob Adams, Harry Munroe, Rich Fingerland, Black Magic, Cheswick, Shawn, Magic Eight Ball Head, Shaggy Buddy Snap, Ghee Buttersnaps aka "The Heater", The Vault of Secrets, Eye Fossets, Ground Control, Puffy, Clementine Woolysocks, Gustus, Joe from Lifeboat, Pinky Guscadero, Guts, Ol' Ironside, Old Iron Stomach, Princess, Bruce Lee, Johnatan Jacob Jingley-Schmidt, John Jacob Jingleheimer Schmidt, "he is a pharmaceutical salesman who moonlights at his psychic detective agency. And once, at camp, he wet his pants", Santonio Holmes, Deon Richmond, Gurton Buster, Chaz Bono, Chocolate Einstein, MC ClapYoHandz, Road Rush, Sher-Black-Lock, Mrs. Whittlebury, G-Force, Mellowrush, Crankshaft, Sammy, Usain Bolt, Damien The Python, Joey Bishop, Slick Fingers, Imhotep (or "Hecomethinpeace"), LaWanda Page, Floyd, Control Alt Delete, Gootsy, The Jackal, Adewale Akinnuoye-Agbajnan, Yasmine Bleeth, Lodge Blackman. (from Psych Twin Peaks episode ), Frederick Douglass, Jet Blackness, Alter Boy Gus, Degenerate Gus, Mission Figs, The Black Goose, Radio Star (Video will kill him), Gus Jay Gubta, Don Cheadle Junior, "Reginald G-String, AKA Crowd Pleaser", Fingers, Cinderella, Gasty, Last Night Gus,
In This Episode Sucks S06E03 Baloney, Blacula, Count Chocula,
In The Amazing Psych Man & Tap Man Issue N°2 S06E04 Tap Man, Watson Williams, Benedict Arnold Jackson,
In S06E05 Sammy the Seabird mascot.
In S06E06: Suggs, Orderly
In S06E07: Bob Jones, Ingle Wuss, Leghorn
In S06E08: Burton Guster PI, Brother Gus.
In S06E10: Brutal Gaster (You can call me Brutal), Brutte, Braxton
In S06E11: Fellatio Del Toro – Eddie Adams from Torrance
In S06E12: Lorenz Tate, Huxtable, The Jackal
In S06E13: He´s called G-Wiz again.
In S06E15: Hammering Gus
In S06E16: ShDynasty, it is spelled S-H-comma to the top-Dynasty, CandyMan
In S07E01: Grn Blanstestorm – Satchel Gizmo
In S07E02: Immaculate Conception
In S07E03: Booty Tag
In S07E05: Domo Arigato – Juliet O´Hara
In S07E08: Quasimodo – Jonas Gustavsson
In S07E09: Blue Ivy Carter
In S07E10: Bill OfRights
In S07E12: BJ Armatrage – Django Unchained – Smooth Storm – The Player named Gus – Burton Goutster.
In S07E13: My Brother Darrell and my other brother Darrell
In S07E14: Burton Trout (No Relation) – Bad News Marvin Barnes (I Have Bad News)
In Psych The Musical: Lil´Wayne – Hellboy – Avon Man – King Mon Cutt (etcetera, etcetera) – Gigi Von Tran (Van Tranh, I´ve heard it both ways) – Inspector Jamaican Man
In S08E01: "Buster" "The Wizard", "The Wiz", "Harry Potter Enthusiast", "Busby"
In S08E02: Recap McGee – Trending OnTwitter Hasthag What Would Gus Do? – Jeckle
In S08E03 Remake: Robert Jones, Booooooob, Burtin Gustin
In S08E04: Darnell Guster, Soupcan Sam, Glutano.
In S08E05: Denzel Diggs Underwood Morris Chestnut Washington
S08E06: Myles Velour Jr.
S08E09: Snappy. Burton Guster Black Spencer.
Psych the Movie: Magic Head.
Complete List of Shawn Spencer Alias and Nicknames on Psych
Lenny, Aurora Borealis, Kkarlton Lassiter, Byron Bojengles III, Black, Shawn Ulfeninderheine, Shawn Bustits, William Zane, Levon Tostig, Jerry Hathaway, Felicia, Doctor Hauser, "T-Bone" Turner, Maniac Maniac 19, Shawn Spenstar, Ichabod "Sticky Icky" Fletchman, Judd Nelson, Abe Froman Sausage King of Chicago!, Jim Stoneman, Hans Jorgenson, Shawn White, R. P. McMurphy, Skip, Juan Priestley, Mr Psych, Mr Shawn, Chad, my middle name is "Quick" I changed it for Boutros-Ghali, Dr Dolittle, Dr.Howard, Shawny, Shawny Rodriguez, L.B. Jeff Jeffries, Shawn-dog, Goose, Emilio Estevez Esteevez, Hickory Pot, Sheriff Spencer, Skepty, Streetcar Named Shawn-zire, Dry Gulch Slim, Die Hard, DJ Cold Cuts, Pierre Desperaux, John Van Gogh, Jacques Hockneystein, Edgar Degas, Search and Rescue is my middle name, Mister Non Judgemental, Mister Bob Dobalina, Jake The Snake Roberts, Soupcan Sam, Shown Spencer, Johnny Utah, Frank, Rick, Torch, Ricky Nelson, Barry, Maverick, Don, Freud-Zoid, Daboney Wilhelm, Dab, Shawnito, Lieutentant Crunch, (then promoted to Captain), Last Night Shawn, Ryan Phillipe, The Catch. Shawn Gthorndal (It´s pronounced Thorndal, it´s a silent G). Tito Nagasaki, Foghorn, Brother Shawn, Burton Guster, Mister Guster, Doctor Shawn Womack, Skinny Chaz Bono, Guy on the screen I think I met once, iPad Shawn, Snoopy, Hammertime.
In S07E01: Shn-ace – SoupCan Phil
In S07E04: Shawn Spencer, Psychic, "El Psíquico" – Diablo
In S07E06: Ornthal James Simpson – Doctor
In S07E07: Frankie Friction – Chubby Pumpalove
In S07E09: David Chockachi
On S07E11 – Honest Shawn – Suck It.
In S07E12 – Jelinda.
In S07E13: Sonny Boy
In S08E01: "The Anglophile", "Robert Finnel"
In S08E02: Hamhead – Heckle
In S08E04: Satchell Gizmo, Emilio Estevez
In S08E05: Laika the Space Dog.
S08E06: Rodney Caruso.
Series Finale: Bud and "I can´t do it".
Psych the Movie: White Privilege. – Psychic Boy.
Quote: Gus: My name is Burton Guster and this is my partner "White Privilege".
Shawn: Ah, my bad.
Complete List of Carlton Lassiter Alias and Nicknames on Psych
Lassy or Lassie, Booker, Carlito Lassiteros, Lassidophilus, Binky, Cory, Detective Dipstick, Officer Whoopsie, Detective Whoopie, Old Penguin from Happy Feet, Scarecrow, Mr Peanut, Mr. Bean, Tony Randall, Mr Liability, Classy Lassie, Lazenbee, Michael Vick, Rod Taylor, Velma, Scooby Don´t, Barnaby Jones, Lassy face, Mr. Bond, The Penguin, Dapper Dan, Lhasa apsos, Jack, Peaches, Danger is his middle name, Carly Town, Slim, Poncherello, Mr Police Man, Detective Gangly.
On S07E05: Evian
On S07E06: Honey Bear
On S07E07: Assiter – C-Dog – Pony Boy – Prince Carlton
On S07E08: Scarecrow
S07E14: Caruso
S08E02: Carlton skipthemiddlename Lassiter – Carlton Danger Lasssiter
S08E06: Archie Baxter.
Series Finale: Chief Lassie, The Lord of Sternbush.
Complete List of Juliet O´Hara Alias and Nicknames on Psych
Jules, Mrs. Tostig, Maniac, Crazy Cat Lady, Kim Novak, Mary Lou Baumgartner, Crafty Little Doodle Pumpkin, Charlie, Dorothy, Cagney, Mrs Police Man.
S07E02: Helene, Debbie does Santa Barbara
S07E09: Jay.
S07E14: Cupcake.
S08E06: Scarlett Jones.
Complete List of Henry Spencer Alias and Nicknames on Psych
Old Scratch Johnson, Phil Collins, Popey Doyle, Horace, Talmidge McGurlagher, Dr Phil, Big Ol´Papa Monkey, Sean Connery, Chatty Cathy, The Human Lie Detector, Papa Bear, Officer Dad, Part Time Officer Dad, "Ignore your son´s urgent message Man", Henry Womack, Henry Spencer Master Caster, Captain Magic, Sipowicz.
S07E04: The Bald One
S07E13: Daddy Boy
Psych The Musical: Papa Spencer.
S08E06: Dick Miller.
On Psych the Movie: Ryan.
Complete List of Karen Vick Alias and Nicknames on Psych
Chief, Chief Vick, Interim Chief, Chiefie, Chief Dick, Chatty Kathy.
Complete List of Buzz Mcnab Alias and Nicknames on Psych
Buzz, McNab, Buddy, Grabs, Bailiff from Night Court, Morningwood – MorningFart – Magic Mike.
Complete List of Woody the Coroner Alias and Nicknames on Psych
Old Buddy, Woody, Woodrow, Necro Butcher, The Woodman, Woodster, The Woodmaster, Slim, Chief Olsen Watt, Wood, Ponyboy. Tobolowsky.
Complete List of Pierre Desperaux Alias and Nicknames on Psych
Royston Staley
Complete List of Gus´girlfriend Rachael Alias and Nicknames on Psych
Rach – Ray Ray – Chel – Professor Willard Dick Peterjohnson – Boo
Please let me know in the comments section if I forgot anyone, and help me keep it updated by leaving the new ones in the comments also.
What did you think of this list of Shawn and Gus´alias and nicknames on Psych? Which ine is your favourite?
Remember to follow me on Twitter for more Scoop on Psych.
PS: There´s also when in Meat is Murder but Murder is also murder episode, Shawn tells Gus he can sign as: Don Cheadle, D´brickashaw Fillington or Delroy Lindo. Not sure if it counts as nickname, but it´s listed here too just in case.
PS2: In S02E11 – There´s Something about Mira, Shawn says: "Just call me the Suck Stopper" – he pauses and adds –
"Scratch that, don't… don't ever call me that."
PS3: You can also see the complete List of Pop References in Psych season one quotes.
PS4: I also completed the list of pop references in Psych season two quotes.
PS5: I also completed the list of pop references in Psych season three quotes.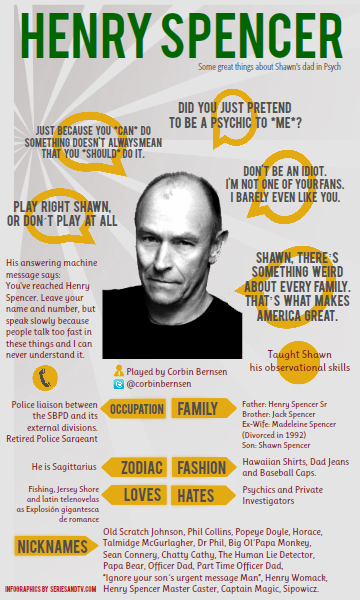 Comments
comments