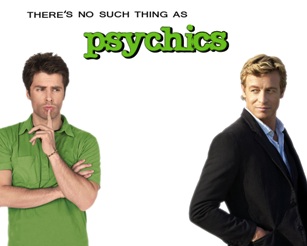 Tomorrow´s the big day when Psych Returns. I already watched the episode and wrote a full review with spoilers and quotes from Psych S05E10 Extradition II.
During an interview we had with Psych stars Dule Hill and James Roday, Tami Gill from AccidentalSexiness.com asked them about pitching for a The Mentalist / Psych Crossover.
Here´s what they said
James Roday:    You have to come up with that fool-proof argument for CBS of why it makes sense to cross their show that has 100 million zillion viewers with our show that has…
Dule Hill:    They're like, "We think not. You want to take our 100 million viewers to how many viewers? Oh, and what's the name of the show? Oh, okay, okay."
James Roday:    And then we'd say, "Yes, but our 4 million are crazy, like, they're foaming at the mouth. They're like…"
James Roday:    "…the best fans of anyone on television. And a lot of your 100 million might be sort of, you know, they might fair-weather fans. This is a way to fuse those two ideas." If he's still on the phone at that point, then you should feel good.
So, would you like it if Psych and The Mentalist did a crossover episode? Would you watch it? I know I would
Let me know your thoughts in the comments section.
Also, remember to follow me on Twitter for more Psych Scoop and Spoilers.
Comments
comments