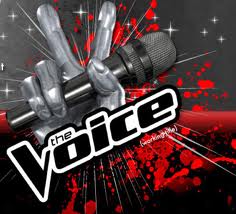 We already told you how to audition for NBC´s The Voice, now it´s time to check out some more scoop about the upcoming reality competition from the Peacock network (Well, not a peacock anymore anyways).
Grammy Award winner Cee Lo Green – the popular singer-songwriter-producer — and fellow Grammy Award winner Adam Levine (Maroon 5) have been named as two of the four musician coaches on NBC's new musical competition series "The Voice," a show about real vocal talent that will premiere on Tuesday, April 26 (9-11 p.m. ET). Following the premiere, "The Voice" will air on Tuesday, May 3 (9-11 p.m. ET) and then move to its regular time period beginning May 10 (8-9 p.m. ET). The announcements were made by Paul Telegdy, Executive Vice President, Alternative Programming, NBC and Universal Media Studios.
"Cee Lo Green and Adam Levine represent the essence of 'The Voice.' They are two of the hottest music artists right now and their voices are instantly recognizable," said Telegdy. "These amazing artists are the perfect inspiration for our contestants to look up to as they begin their journeys from "voices" to true artists — and any hopeful singer would be incredibly lucky to have either one as their coach."
"It's an honor for me to be able to help mold a malleable and new talent in such a fashion as 'The Voice'," said Cee Lo Green. "Being a coach on 'The Voice' is a substantial responsibility, and I take it with sincerity and distinction."
"I was absolutely thrilled to be invited by Mark Burnett to join 'The Voice' as a coach," said Adam Levine. "I look forward to working with these singers and helping them push forward throughout the competition to make their musical dreams become a reality."
Green – who is better known to his fans as Cee Lo – won a Grammy this year for Best Urban/Alternative Performance for "Forget You" (a/k/a "F–k You"). Cee Lo, a rap singer, songwriter and record producer, first became recognized as a member of the hip-hop group Goodie Mob (which released the album "World Party"), and later launched a critically hailed solo career. He also formed the group Gnarls Barkley with deejay-producer Danger Mouse. Among Cee Lo's best-known hits are the singles "Closet Freak," "I'll Be Around," "Crazy (by Gnarls Barkley) and "Forget You" (a/k/a "F–k You").
Cee Lo's albums include "Cee Lo Green and His Perfect Imperfections," "Cee Lo Green…Is the Soul Machine," "Closet Freak: The Best of Cee Lo Green the Soul Machine," "Forget You" and his most recent, "The Lady Killer." He also collaborated with Danger Mouse for the album "St. Elsewhere" (his greatest-selling album). Cee Lo currently is working with Jazze Pha on the album "Happy Hour."
In January, Cee Lo appeared as a musical guest on NBC's "Saturday Night Live" and his hit song "Forget You" was featured on the series "Glee."
As the front man of Maroon 5, Adam Levine is the primary songwriter of the band and a guitar player, whose talents give Maroon 5 their signature sound. His heartfelt ballads and pop anthems have become part of the fabric of this decade's music scene. Capturing their first of three Grammy Awards as "Best New Artist" of 2005 and going on to sell more than 15 million albums worldwide, Maroon 5 won over fans and critics alike with the hybrid rock/R&B sound they introduced on their debut album Songs About Jane. They followed up with the double platinum album, It Won't be Soon Before Long, which included hits like "Makes Me Wonder" and "If I Never See your Face Again."
In September 2010, the band released their third studio album Hands All Over, which was produced by studio legend Robert John "Mutt" Lange. Most recently Maroon 5 received a Grammy Award nomination for "Misery," the debut single off Hands All Over in the category of "Best Pop Performance By A Duo Or Group With Vocals." The nod marks the group's seventh Grammy nomination overall and 4th in that category. Maroon 5's releases have gone gold and platinum in over 35 countries around the world, including Hands All Over, which was certified gold by the RIAA in December 2010.
In addition to his work with Maroon 5, Adam Levine has collaborated with various musical acts including Kanye West, Alicia Keys, Slash and K'naan. Levine has also made several appearances on television including "Saturday Night Live" and "30 Rock."
On "The Voice," four famous musician coaches – including Green and Levine — will each select singers to mentor into artists during the blind auditions. Once they have their teams, the star coaches will bring in their personal songwriters, producers, and high-powered friends to help their teams evolve. Ultimately, America will decide which singer will be worthy of the grand prize.
Hosted by Carson Daly, the show's innovative format features three stages of competition. The first begins with the blind audition, then the competition enters into a battle phase, and finally, the live performance shows. The show's casting team is working with the music industry and searching the country for the best singers to bring to the blind audition process. During the blind auditions the decisions from the coaches are based solely on voice and not on looks. The coaches hear the contestants perform but they don't get to see them thanks to rotating chairs. If a coach is impressed by the contestant's voice, he/she pushes a button to select the contestant for his/her team. At this point, the coach's chair will swivel so that he/she can face the contestant he/she has selected. If more than one coach selects the talent, the power shifts to the contestant, who may choose which coach he/she wants to work with throughout the competition.
Once the teams are set, the battle is on. Coaches will dedicate themselves to developing their singers, giving them advice, and sharing the secrets of their success. During the battle rounds the coaches will pit two of their own team members against each other to sing the same song together in front of a studio audience. After the vocal face-off, the coach must choose which of his/her singers will advance.
At the end of the battle episodes, only the strongest members of each coach's roster remain and proceed to the live stage shows. In this final performance phase of the competition, the top contestants from each team will compete against each other during a live broadcast. The television audience will vote to save one talent on each team, leaving the coach to decide live who they want to save and who will not move on. At last, each coach will have their best contestant left standing to compete in the finale. From these four, one will be named "The Voice" — and will receive the grand prize of a recording contract and $100,000.
"The Voice" is a presentation of Talpa Productions, Mark Burnett and Warner Horizon Television. The series is created by John de Mol, who will executive-produce along with Burnett and Audrey Morrissey.
What do you think about Cee Lo Green and Adam Levine from Maroon 5 joining The Voice Cast? Let me know in the comments section.
Also, remember to follow me on Twitter for more The Voice scoop.
Comments
comments