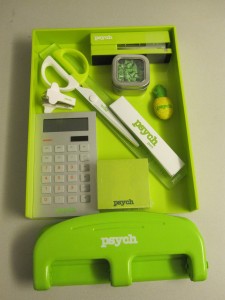 One week left, one week left! And that´s it, Psych is back! Finally! But, since you´ve all been such good sports and waited this long, I am going to award you with some goodies from Psych in honor of season seven premiere with a contest and giveaway.
Season 7 of Psych kicks off February 27 at10/9c and I had the chance to watch it in advance, as you can read on my preview of the episode. But you can also enter my contest and giveaway to win a great prize pack for Season 7 premiere. Remember to tweet along during premiere using #Psych.
WHAT CAN YOU WIN ON THIS PSYCH CONTEST AND GIVEAWAY?
Psych Season 7 Premiere Prize Pack includes:
Psych 3-hole-punch
Pineapple USB Drive
Poppin' In/Out Box (2 boxes)
Poppin' Stapler
Poppin' Staple Remover
Poppin' Ruler
Poppin' Scissor
Poppin' Tape Dispenser
Poppin' Calculator
Push Pin Tin
Set of Post It Notes
Everything Psych branded.
This prize is provided by USA, but USA is not a sponsor, administrator, or involved in any other way with this giveaway. Contest open to US residents only.
The contest starts when this article goes live and lasts until February 28th 12 PM PT.
HOW TO ENTER PSYCH CONTEST AND GIVEAWAY?
Head to the comments and answer me this, Which is your favourite Lassiter Nickname?. You can visit this article for a full list of Psych Nicknames to choose your fave one.
Now for the answers, you´ll have to put yours in the comments section (make sure you fill the form with a valid e-mail address and put guillermo @ seriesandtv.com in your white mail list so if you are the winner you can get my e.mail letting you know, since I´ll contact the winner through e-mail).
HOW TO GET EXTRA ENTRIES:
– Like Series and TV on Facebook
– Like this article on Facebook
– Tweet this article
– Pin This Article
Will you enter Psych contest and giveaway? Let me know in the comments section.
Also, remember to follow me on Twitter for more Contests and Giveaways.
Comments
comments