Last week I did a list of the best TV Bromances, and promised a new list coming soon, so, now is the day for a new one. In this case, I´m bringing a list of the best fake shows on TV series. Some are shows withn shows, and some are just inventions that are so funny that cannot get out of this list.
Of course I forgot some, and of course I did not put one that you think is a can´t be missing. Please, help me get it right when commenting.
Best Fake TV Shows and Shows within Shows
1- Willin With Da Gusters – Psych
It was a funny as hell episode, called The Polarizing Express in which Shawn got into a spiritual journey to discover how life would be for his loved ones had he not returned to Santa Barbara. When he was watching Gus´life, it was a sitcom, called Willin with Da Gusters, in which Gus had a wife and a stepkid who only said: "You ain´t my daddy". Everything, from Gus´looks to the music, and the dancing was hilarious. That´s a show I´d watch.
2- Space Teens – How I Met Your Mother: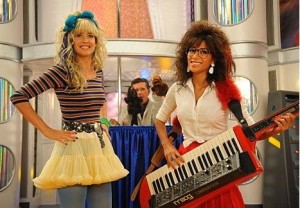 Every time we catch a glimpse of what was life for Robin Scherbatsky as teenage pop star Robin Sparkles on Canadian TV in the nineties, you know the episode is going to be legen… wait for it… dary. And specially the one with Jessica Glitter, played by Nicole Scherzinger. We get to see the show Space Teens with Robin Sparkles and Jessica Glitter in an episode called Glitter on the sixth season of How I Met Your Mother. The show also had one of the funniest fake songs ever: Two Beavers are better than one.
3- The Documentary regarding Modern Family
Modern Family is a mockumentary that has the funniest quotes, like Phil Dunphy´s Philsosophy, among other. But there should be a documentary coming out of all those interviews that happen on the show. The alleged docureality follows the lives of the Dunphys and the Pritchetts. Now, that´s a documentary I´d watch happily. Wouldn´t you?
4- the Itchy & Scratchy show – The Simpsons: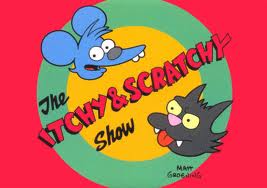 This animated show within an animated show has been around for twenty years or so, and we still laugh out lodud with it. It´s the least correct show for kids, but we can´t wait to see it when Bart and Lisa sit in front of the TV to watch a minute of it. It has become so iconic that it has its own following. If Matt Groening ever decides to pursue this show as a spinoff, many people would watch it. Count me in that demo.
5- Mac and C.H.E.E.S.E: Friends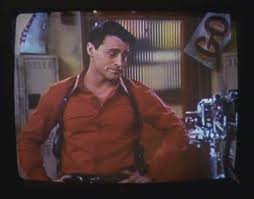 There´s probably not a bigger sitcom in history. And we grew with it in the nineties and early 2000´s. Following Joey Tribbiani´s career was one of the attractive of Friends, and apart from the Ichiban ad, there was probably not a bigger moment in terms of fake TV than Mac and C.H.E.E.S.E. The premise itself was bizarre: Joey was Mac Machiavelli, a detective, and C.H.E.E.S.E was his robot partner. A Low fi robot I might add. C.H.E.E.S.E stands for Computerized Humanoid Electronically Enhanced Secret Enforcer.
6- Troy and Abed in the morning – Community
One is a crazy character, and the other is crazier. Both are goofballs, and best friends. They do everything together (except when they went to war between pillows and blankets), and they even created a fake morning show called Troy and Abed in the morning, with a catchy intro song. The show is such an entity in itself that it launched the Community promo for the upcoming fourth season of the show with a Troy and Abed in the Morning.
7- Tool Time – Home Improvement
Home Improvement is one of the biggest rated sitcoms ever, and turned the careers of Tim Allen and Pamela Anderson into bonafide stars, being a trampoline for their careers. In the show within the show, Tool Time had Tim and his assistant Al explaining the use of tools, but most of the times they ended up making a mess. Tool Time girls Lisa and Heidi were also highlights of the show.
8- TGS with Tracy Jordan – 30 Rock
30 Rock has tons of fake shows, but one, the show within the show is in every week, showing nonesensical sketches after nonsensical sketches of the show led by Tracy Jordan and Jenna Maroney, penned by Liz Lemmon. Show´s constant punches to actual television makes it even funnier, and one of the things from the long time running sitcom we will miss the most after 30 Rock ends this season.
9- The Terrance and Phillip Show – South Park:
The show is within one of the least political correct shows, and plays as a bizarre show on that world. So you can already imagine the kind of show we are talking about. Everything is about farts, even the catch phrase "You Fah-ted". They are huge celebrities in Canada and even won a Nobel Peace Prize.
Fathers and Mothers in South Park universe frown upon the show, but the kids watch it anyways.
10- Jerry – Seinfeld:
This was like a loop. Jerry Seinfeld and Larry David created Seinfeld as a show about nothing in which Jerry Seinfeld plays Jerry Seinfeld and Jason Alexander plays George Constanza (based on Larry David). In Jerry, they write a pilot about their lives in which they get different actors to play them, adding Kramer and Elaine to the cast. The show pretty much followed the same path as Seinfeld, in terms of getting a small pilot order, but did not explode in the same way as Seinfeld did, becoming one of the biggest TV shows ever.
11- The Documentary of Arrested Development: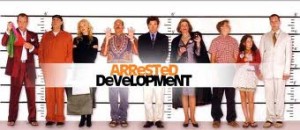 This mockumentary that follows the lives of the Bluthe family after the arrest of the patriarch is one of the best things that happened on TV in the 2000´s. And not only was it a Fake TV Show, it had also shows within the show as are featured on this very same list. We cannot get past the awesomeness of this show, nor the happiness that it is coming back.
12- Mock Trial With J. Reinhold – Arrested Development:
Talk about a strange show within a show. Mock Trial with Judge Reinhold was a show that featured mock trial and included a musical group, the Hung Jury lead by American Idol alum William Hung. Everything on it was hilarious. Here´s me hoping to see this show come back when Arrested Development relaunches next year.
13- Psycho Dad – Married with Children:
Psycho Dad was Al Bundy´s favorite sitcom. It was about a man who kills for fun. He even started a protest when Psycho dad was getting cancelled. The show had a great theme song, remember?
Psycho Dad Theme Song Lyrics
Who's that riding into the sun?
Who's the man with the itchy gun?
Who's the man who kills for fun?
Psycho Dad, Psycho Dad, Psycho Dad!
He sleeps with a gun, but he loves his son.
Killed his wife 'cause she weighed a ton.
Psycho Dad, Psycho Dad, Psycho Dad!
A little touched or we're told
Killed his wife 'cause she had a cold
Might as well she was gettin' old
Psycho Dad, Psycho Dad, Psycho Dad!
He's quick with a gun, and his job ain't done.
Killed his wife by twenty-one
Psycho Dad!
Who's that riding in the sleigh?
Who's that firing along the way?
Who's roughing up bums on christmas day?
Psycho Dad, Psycho Dad, Psycho Dad!
Who's the tall, dark stranger there?
The one with the gun and the icy stare?
The one with the scalp of his ex-wife's hair?
Psycho Dad, Psycho Dad, Psycho Dad!
Who's that riding across the plain?
Who's lost count of the wifes he's slain?
Who's the man who's plumb insane?
Psycho Dad, Psycho Dad, Psycho Dad!
He's a durn good pa, but he hates the law.
He likes to eat it raw, he's Psycho Dad!
14-  The fake Days of Our Lives in which Joey Tribbiani was Drake Ramorey – Friends:
The show is real and it even had some crossovers between the real one and the fake one. But the plotlines that involved Joey Tribbiani on Days of Our Lives were so damn funny, that this show deserves to be on this list. Joey Tribbiani had two different stints on the show, and even ended up being Susan Sarandon´s character after quite a strange surgery that made her come back to life.
15- The Documentary regarding The Office:
Learning about what happens on Dunder Mifflin made for one of the best successes in translating a successful british show to a successful american show. Steve Carell managed to fill in Ricky Gervais´shoes perfectly without being a copycat. It made mockumentaries a real thing in US television, launching a series of shows on that genre, including Parks and Recreation, Reno 911 and Modern Family.
16- Sick Sad World – Daria:
Sick sad world was a part of Daria, back when MTV was about fun and video clips. Remember? Now that Beavis and Butt-Head came back… is there any chance they could bring back Daria? And with her this fake TV show which, as you may recall, was a news shwo that featured yellow questionable news and had a bigtime competitor in Poor, Pathetic Planet.
17- Kramer´s Talk show based on The Merv Griffin Show – Seinfeld
Something that only Kramer could pull off: Finding the old set of The Merv Griffin Show in a dumpster, bringing it back home and turning his whole life into a talk show in which his friends: Jerry Seinfeld, Elaine Benes, George Constanza and even Newman visit as guests.
It is the icon in which fake shows like Troy and Abed in the morning are based.
18- Come on Get Up New York – How I Met Your Mother:
Robin Scherbatsky´s life in New York was not as easy as in Canada in terms of her road to stardom. She had to work in this crappy morning show that ran at 4 AM in the morning, where no one´s watching, on Channel 12, a network nobody watches.
The first co-anchor of the show was DOn Frank, and after his departure, Becky joined the show bringing the quirkiness and the baby talking to it.
19- The documentary about Parks and Recreation:
Up until this show, many people thought Amy Poehler was a poor woman´s Tina Fey. She proved everybody wrong on this one, making for a funny show about Leslie Knope, a perky, mid-level bureaucrat in the parks department of Pawnee, a fictional town in Indiana. Even the town is fake in this mockumentary. Fu-neh!
20- Inspector Space Time – Community: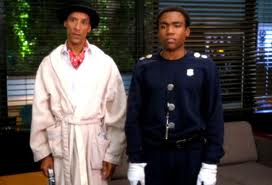 Doctor Who is all in itself quite a show, with a cult fan following, and tons of seasons on its back and hundreds of sketches and spoofs based upon it. But when Britta first showed Abed Inspector Space Time during the episode called Biology 101, and then it was featured several times during the following episodes. The scenes in the Dreamatorium have become a staple of Community, and we can only hope for the show to come back at some point this year.
21- American Duos – Psych:
Shawn and Gus singing? Check. 80´s Pop References? Check. Lassiter getting mad at them for meddling? Check. Tears for Fears homage? Check. Michael Jackson homage? Check. What else can you ask from this fake reality music competition in which Shaw and Gus enter to try and solve a crime, and participate by singing as a duet and moving on in the competition and the investigation.
22- MILF Island – 30 Rock:
The premise is so incredibly bizarre and incorrect, that we can actually see it happening someday. The plotline for MILF Island is: 25 Super-Hot Moms, 50 eighth grade boys, no rules. Do you really think TV is that far away from making something like that show? I certainly would hope so, but I wouldn´t bet my money against the possibility of it becoming a real show at some point in the future.
23- Explosion Gigantesca de Romance – Psych:
Shawn Spencer becomes a star in a latin telenovela that Henry Spencer watches as a fan, but wants no one to know it. The episode was called Lights, Camera, Homicidio and has Shawn Spencer in a very strange look and sporting a very thick latin accent in order to solve a crime that happened on the set of the hottest telenovela in Santa Barbara television. It is also Gus´favorite telenovela. If you watched this episode and you are not craving for some more of Shawn playing Chad, you cannot call yourself a Psych-O. Seriously, you cannot. It is probably one of the best Psych episodes ever, and there are so many great ones to choose from, right?.
24- Cops in Springfield – The Simpsons:
This fake show is a spoof from Cops. And it has all the police officers from The Simpsons as fans. Even the theme song is a spoof that says: Bad cops, bad cops
Bad cops, bad cops
Springfield cops are on the take
But what do you expect for the money we make?
Whether in a car or on a horse
We don't mind using excessive force
Bad cops, bad cops
Bad cops, bad cops
25- Queen of Jordan – 30 Rock:
Talk about a funny Real Housewives of Something spoof. The show is a reality series that follows the life of Angie Jordan, Tracy´s wife and her entourage, that consists mainly of D´Fwan and Portia with Michael and Randi joining. It could very weel be a spinoff after 30 Rock elaves our televisions. One I would certainly watch.
26- Ski, Shoot, Sing – Community:
In what turned out to be one of the best Community episodes ever (and that´s not an easy feat), the show about the war between Pillows and Blankets, they show this fake reality show called Ski Shoot Sing, a show that had a sketchy premise: half biathlon, half American Idol. And the only thing that could grant a temporary truce between the two sides, so they could watch it. That´s also the same episode in which we learn that Chang´s army is called the Changlorious Bastards.
27- Bitch Hunter – 30 Rock: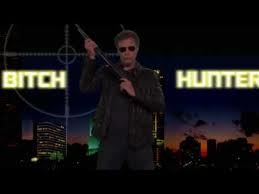 Will Ferrell as the Bitch Hunter? Make that happen NBC! The show starred Will Ferrell as Shane Hunter, a sicar who hunts women with a rifle. After controversy with feminists, Jack Donaghy decided to give Liz Lemmon the reins of a new show called The Girlie Show to apeace the feminists, but after the second episode of Bitch Hunter TGS needed to do a Mother´s Day Special called The Moms.
28- Paths of Love – Psych:
In the episode called Shawn and The Real Girl, it´s Psych´s interpretation of The Bachelorette, in which both Shawn and Gus enter the competition to earn the affection of Melinda, played by Lindsay Sloane. The premise of the show is a dating competition much like The Bachelorette, in which all the contestants have crossed paths with the "Real Girl", but never actually dated. Adding to that premise that Shawn does not tell Jules he´s entering the competition makes it for an even funnier episode.
29- The documentary of Reno 911:
Another funny mockumentary that makes the list. In the same way as Cops in Springfield spoofs Cops, this mockumentary also spoofs Cops and other law enforcement documentary shows. It ran for six seasons following these comic actors playing police officers. An important thing about this show is that it was mostly improvised, showcasing the improv talents of the ensemble led by Robert Ben Garant, Kerri Kenney-Silver, Thomas Lennon among others.
30- Dealbreakers – 30 Rock:
This show, based on Liz Lemmon´s book "That´s a Dealbreaker, Ladies!" was what catapulted her to fame in front of the camera, as she starts her own talk show in which she answers questions from the audiences and decides whether things that men do are Dealbreakers or not. Most of the times, they are.
This episode granted Tina Fey an Emmy, deservedly so.
So, what do you think about this list of the top 30 Fake TV Shows and Shows within shows? How would you rank them? Which did I miss? Which shouldn´t be on the list? Head to the comments and discuss.
Also follow me on Twitter for more lists like this one.
Comments
comments