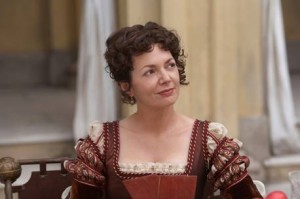 We´ve been talking about The Killing, we´ve been talking about Camelot, and there´s for sure a lot of good things to expect from 2011 in Television. But if you ask me, it all starts with The Borgias, and with each announcement the show makes, it moves closer and closer to a must watch as it gets.
Let´s remember they already announced Emmanuelle Chriqui to play a guest star role, a little later the show announced Jeremy Irons will play Rodrigo Borgia, Pope Alexander VI, and Colm Feore will play Cardinal Della Rovere. Now another great addition to The Borgias roster of great actors and actresses: Joanne Whalley is cast as Vanozza Dei Cattanei in The Borgias.
Who is Vanozza Dei Cattanei?
Of all Rodrigo Borgias' mistresses, Italian noblewoman Vanozza dei Cattanei lasted the longest.  During that time, she gave birth to Cesare, Juan, Lucrezia and Joffre – the children who would become the infamous Italian Borgia lineage.  Once Rodrigo is pronounced Pope Alexander VI, Vanozza is cold-bloodedly cast aside and replaced with a new lover. But while she may not share his bed, she shares the Pope's intense love for their children and must approach her new, unorthodox position strategically to protect them – and herself – at all costs.
Make sure you Tune in to the 2-hour premiere of The Borgias on Showtime, Sunday, April 3rd at 9PM ET/PT.  Following the premiere, new episodes will air on Sundays at 10 PM ET/PT.
Will you watch it? Let me know your thoughts in the comments section.
Also, remember to follow me on Twitter for more Borgias scoop.
Comments
comments