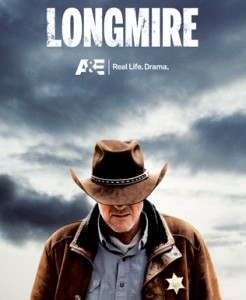 Even though I am still hurt and angry at A&E for the cancellation of Breakout Kings, I have to say this move, that I´m adding to the  lists for cancelled shows of 2012 and renewed shows of 2012, is a good move. A&E renewed Longmire for season two. I have the book The Cold Dish to review still, so you´ll see me covering this show a lot, but for now, let´s just say that Longmire got renewed for a second season.
Longmire premiered to 4.1 million total viewers and was the channel's most-watched scripted series debut ever.
What is Longmire about? Plot Synopsis
"Longmire," a contemporary crime thriller set in Big Sky country, is based on the Walt Longmire Mystery novels by best-selling author Craig Johnson.
The series stars Australian actor Robert Taylor (The Matrix) as Walt Longmire, the charismatic, dedicated and unflappable sheriff of Absaroka County, Wyoming, along with Katee Sackhoff ("Battlestar Gallactica"), Lou Diamond Phillips ("Numb3rs"), Bailey Chase ("Damages"), Cassidy Freeman ("Smallville") and newcomer Adam Bartley.
Widowed only a year, Longmire is a man in psychic repair that buries his pain behind a brave face and dry wit. Struggling since his wife's death and at the urging of his daughter, Cady (Freeman), Longmire knows that the time has come to turn his life around. With the help of Vic (Sackhoff), a female deputy new to the department, he becomes reinvigorated about his job and committed to running for re-election. When Branch (Chase), an ambitious, young deputy decides to run against him for sheriff, Longmire feels betrayed but remains steadfast in his dedication to the community. Longmire often turns to close friend and confidant Henry Standing Bear (Diamond Phillips) for support as he sets out to rebuild both his personal and professional life, one step at a time.
"Longmire" is produced by The Shephard/Robin Company in association with Warner Horizon Television. Hunt Baldwin ("The Closer," "Trust Me") and John Coveny ("The Closer," "Trust Me") wrote the pilot and serve as executive producers along with Greer Shephard ("The Closer," "Nip/Tuck") and Michael M. Robin ("The Closer," "Nip/Tuck"). Christopher Chulack ("Southland," "ER") served as director and executive producer of the pilot.
What do you think? Are you happy that Longmire got renewed? Let me know in the comments section.
Also, remember to follow me on Twitter for more scoop about shows getting renewed as Longmire did.
Comments
comments