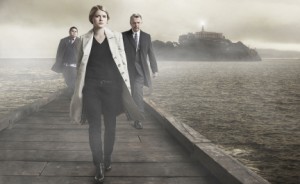 More information to fill the lists for cancelled shows of 2012 and renewed shows of 2012.  This one really hurts, because the show was good, but ratings just weren´t there. Fox cancels Alcatraz and it´s a shame since now we are not going to know if Rebecca Madsen lives or dies.
Yet another show that does not get to give us a satisfying finale, same thing that happened with Heroes, Flash Forward and so many more. Good thing Fringe is getting a final season though, and that´s bringing JJ Abrams back at least.
What was Alcatraz about? Plot Synopsis
When San Francisco Police Department DET. REBECCA MADSEN (Sarah Jones) is assigned to a grisly homicide case, a fingerprint leads her to a seemingly impossible suspect: JACK SYLVANE (guest star Jeffrey Pierce), an Alcatraz inmate who died over 30 years ago. Given her family history – both her grandfather and surrogate uncle, RAY ARCHER (Robert Forster), were guards at the prison – Madsen's interest is immediately piqued. When the enigmatic, knows-everything-but-tells-nothing government agent EMERSON HAUSER (Sam Neill) tries to impede her investigation, she becomes doggedly committed to it.
What do you think? Are you sad that Alcatraz got cancelled? Let me know in the comments section.
Also, remember to follow me on Twitter for more scoop about shows getting cancelled as Alcatraz did.
Comments
comments