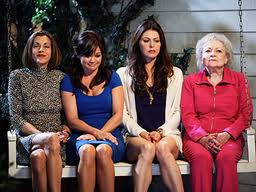 The renewals on January are starting to pile up, so my work to complete the lists for cancelled shows on 2012 and renewed shows on 2012 is also starting.
TV Land has renewed Hot in Cleveland for season four, right after getting the best cable sitcom on the People´s Choice Awards and getting solid numbers for the newest episodes, and also, closing on Betty White´s 90th birthday, so this suits perfectly in timing to give the good news for everybody, for Betty White herself, and for the fans that get Hot in Cleveland renewed for a fourth season.
This season four renewal order for Hot in Cleveland also brings the show closer to a syndication deal, since this new order puts the show on 70 episodes, and also the international run for the show has begun via Endemol.
Hot in Cleveland renewal for season four is not the only good news for the franchise, since Cedric the Entertainer, who appeared on the show as a preacher is getting a spinoff call to develop a series from same creator as Hot in Cleveland.
What do you think? Are you happy Hot in Cleveland got renewed for season four? Let me know in the comments section. Also, remember to follow me on Twitter to know about more shows getting renewed as Hot in Cleveland did.
Comments
comments