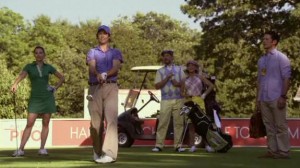 Update: Enter Royal Pains Contest to win a great gift pack.
Good TV is back! Well… set your calendars, since Royal Pains comes back on Thursday January 20th 9/8 C on USA.
USA will premiere the second season continuation of ROYAL PAINS, the best performing freshman year of a cable series ever, Royal Pains then, returns with all-new episodes of season two on Thursday, January 20 9/8c, as our TV Comeback Calendar Winter edition marks. And the hit show will also serve as the launchpad for Fairly Legal, the newest USA Original.
ROYAL PAINS stars Mark Feuerstein as Hank Lawson who, after becoming blacklisted from the medical community, revives his career as a "doctor for hire" to the rich and famous in the Hamptons.  In addition to treating this select group of the East End elite, Hank also caters to the town's less fortunate by donating his time at the local clinic. He finds himself walking the line between doing well for himself and doing good for others. The show also stars Paulo Costanzo ("Road Trip"), Reshma Shetty ("30 Rock") and Jill Flint ("Gossip Girl").  ROYAL PAINS is executive produced by Andrew Lenchewski ("UC: Undercover") and Michael Rauch ("Love Monkey"), as well as Rich Frank ("Comanche Moon"), Paul Frank ("Comanche Moon") and Jeff Kwatinetz ("Big Momma's House") from Prospect Park. Christine Sacani ("Sisterhood of the Traveling Pants 2") and John P. Rogers ("Hide & Seek") also serve as co-executive producers. ROYAL PAINS films entirely in New York (Long Island and Brooklyn) and at locations around The Hamptons.
We get to learn what happened to Eddie R Lawson after his heart attack and all.
After Eddie suffers a heart attack, Hank and Evan learn the truth about their father's complicated past.  Meanwhile, Divya remains unsettled when Adam comes back into her life, and Jill becomes a patient of Hank's when she collapses at a golf tournament.
Best Quotes from Royal Pains – S02E13 – Midseason premiere Mulligan
Hank: Damned, Lidocaine didn´t work
Divya: We can talk later… or perhaps, we can not talk about it
Dr: Are you his primary?
Hank: I am his son
Hank: (Talking about Eddie R Lawson) He´s stable
Boris: This is for your eyes only. Examine it will you?
Evan: You mean me and Hank, do you
Boris: If I had meant you and Hank I would have said that
Jack: Would you autograph my balls, so I can get to know you better?
Hank: Ok, have fun
Jill: I don´t play to have fun. I play to win
Eddie: Shut the F…ront door!
Evan: You are going to jail dad
Hank: Let´s make him better so you can kill him
Jill: Oh Jack you are bleeding from the head
Evan: I see what this is… you are gloating
Evan: This is you being all right
Hank: I´m tired of being angry.
Jack: No surgeries?
Hank: No surgeries. No guarantees either
Jack: Mulligan is the golf term for second chance
Hank: I guess we can all get a Mulligan now and then
Jill: Are you suggesting I quit?
Hank: I am suggesting to take care of your body
Jill: Are you jealous?
Hank: Yeah, that you prefer golf over health
Jill: He´s cute, right? Like one of those puppies you wanna scratch him behind the ears and in his belly
Jill: I miss you Hank, I really miss you
What did you think of Royal Pains Winter Premiere Mulligan? Let me know in the comments section. Also, remember to follow me on Twitter for more scoop and spoilers on Royal Pains.
Comments
comments