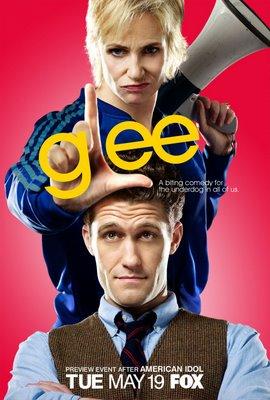 You know I´m doing Fan Maps, right? Well, After doing Storage Wars Map, Alcatraz Locations Map and Covert Affairs Locations and Missions Map, it was time for Glee.
And Glee is based on McKinley High in Lima, Ohio, but there are a lot of places where the show was filmed, and there was a lot of on location filming on New York for the Nationals on season two.
What is in this Glee Locations Map?
The complete list of Glee places and some of the locations where filming occurred. In some cases in this map there´s only a city marked because that´s all the info we got from watching the episodes, in other cases, we go so deep we get the exact addressThe map is embedded here, and you can see the Red markers are Filming Locations featured in Glee (mainly in California), while green markers are for storyline locations. (Can be Filming Locations at the same time, such as locations on New York)
Please help me in keeping it updated. Point me out in the comments if I´m missing some place, if there´s a new one to add, or anything or, help me edit the map itself.
Here´s the full list of references so you can search the one you are most interested in:
glee locations Map References
1- Venice High Club
Glee Club McKinley High School
2- The Cravens State
Glee Club from Rival school Dalton Academy. Home of The
Warblers
3- Million Dollar Theatre
CrossRhodes Theatre
Will checks out the theatre where CrossRhodes is playing while
in New York
4- Helen Bernstein High School
Also, locations used for McKinley High
5- Tiffany´s
Where Rachel and Kurt go to have Breakfast
6- Paramount Studios
Studio where Glee is filmed
7- Cabrillo High School
Mc Kinley High on season one (Auditorium, Football field,
walkways)
8- Eagle Rock Plaza
Lima Mall
"Barbra Streisand" in the episode Born This Way and "Safety
Dance" from episode Dream On mall performances
9- Sardi´s
The place where Patti LuPone meets Rachel and Finn
10- InterContinental Hotel
Where New Directions stay when on the trip to New York
11- Congregational Church of Northridge
Chapel where Finn´s mom Carol and Kurt´s dad Burt got married
in
12- Whiskey Bend
Scandal's
West Lima's gay bar– visited by Kurt, Blaine, Sebastian and Max
in the episode "The First Time"
13- The Gap at The Grove
Blaine and the Warblers sing "When I Get You Alone" to Jeremiah
in the episode Silly Love Songs.
14- Haugh Performing Arts Center
Vocal Adrenaline Rehab Theatre
15- Anna´s Linens
Sheets-N-Things where Terry works and gives Puck and Finn a
job
16- Sit´n Sleep
Mattressland from the episode where they get endorsed by
mattres
ses company
17- The Alex Theatre
Sectionals Theatre from season one
18- Moonlight Rollerway
April´s Roller Rink from season one
19- The El Portal Theatre
Audition Theatre where Will Schuester auditions with guest star
Neil Patrick Harris = Bryan Ryan
20- Episcopal Church of the Ascension
Mercedes´ Church from the episode Grilled Cheesus
21- Hollywood Forever Cemetery
Place where Rachel sings Papa Can You Hear Me in Grilled
Cheesus episode
22- Parking Lot At The Rose Stadium
Christmas Tree Lot from A Very Glee Christmas
23-  Cowboy Country Saloon
Rosalita's Roadhouse Country Saloon from Blame it on the
alcohol episode
24- Elysian Park
Kurt and Blaine Tree on Pavarotti's Burial Spot from the episode
Original Song
25- Saban Theatre
Theatre where Regionals were filmed in seasons 1 and 2
26- La Crescenta Motel
Motel where Sam Evans lived prior to him moving to Kentucky
27- Terrace Theatre
Theatre where Nationals where filmed (In the storyline, it was in
New York)
28- New York Street
Street where Bella Notte is performed
29- Duffy Square – Times Square
Times Square on Nationals. Season two
30- Gershwin Theatre
Nationals Theatre from season two
31- Washington Square Park
"I Love New York / New York, New York" location on the last
song
32- Central Park
"I Love New York / New York, New York" location on the last
song
33- Lincoln Center
"I Love New York / New York, New York" location on the last
song
34- New York Street
"I Love New York / New York, New York" location on the last
song
35- The Bow Bridge
"I Love New York / New York, New York" location on the last
song
36- Lima, Ohio
The City in which the story of Glee takes place
37- Kentucky
Where Sam Evans moved after season two
What do you think about this map for Glee Locations? Let me know in the comments section, and ask away for other shows you want me to work on.
Also, follow me on Twitter for more shows locations maps.
Comments
comments