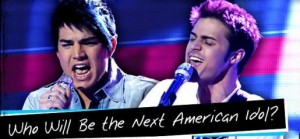 So… We are at the end of season 8 of American Idol, and a great finale between Kris Allen and Adam Lambert.
I could only start watching American Idol Finale live very late on the episode… but caught enough of Fergie to be happy.
With a special show, filled with guest stars and the performance of all the other American Idol contestants from this year.
Of course Fergie looking hot is a good moment of American Idol finale. Black Eyed Peas guest star performance.
Will we see something on Paula Abdul and Simon Cowell romance?
The prizes to all the contestants are still on the roll… and Katrina Darrell, bikini girl (Who, BTW got a boob job) won for best Attitude. Then they sang together with Kara DioGuardi the infamous cat fight song between them Vision of Love.
Kara Dio Guardi is hot!!! She was also a bikini girl for charity. Don´t miss the video of Kara DioGuardi flashing her bikini.
Allison Iraheta and Cindy Lauper singing together is yet another great moment of American Idol Finale… they are singing Time After Time.
Danny Gokey singing with Lionel Richie… Wow! Maybe he could´ve been here…
Adam Lambert journey in the show video was up next…
Adam Lambert singing Beth from Kiss was a great moment… but Kiss MTV Unplugged version was too darn good… but wait… here comes Kiss to perform on American Idol Finale.
Detroit Rock City by Kiss and Adam Lambert is filled with energy!!! Then onto Kiss and Adam Lambert singing Rock and Roll All Nite and no one is sitting on that arena!
American Idol Finale between Kris Allen and Adam Lambert is turning out to be quite the show man!
Following with the wow moments on American Idol Finale, Carlos Santana takes the stage and performs of course brilliantly, and then enters Matt Giraud to sing Black Magic Woman with Santana… What a dream, right? And then onto Supernatural´s big hit Smooth featuring Matt Giraud, Kris Allen, Danny Gokey, Jorge Nunez Mendez, and the rest of top thirteen.
Video of David Cook  giving Kris Allen and Adam Lambert new cars… two great Ford Fusions.
And after that Michael Sarver´s performance with Megan Joy Corkrey and Steve Martin there.
(BTW listening to Megan Joy Corkrey is painful though).
G-Force first official trailer during the commercial break… nice… the movie´s premiering on July 24th
After a suited up presentation by the guys it´s Rod Stewart performing on American Idol finale singing Maggie May
Then… the next golden prize in American Idol for outstanding female. (I´d call the prize outoftune female… but…), except we have there Tatiana Del Toro back on American Idol finale. I thought we had enough from her, but hey… she´s singing, and she can do it… and she is now making fun of herself… so everything´s good with her after a 12 week break since the last time I saw her… I now can stand her.
After Queen performing on American Idol Finale with We Are the Champions…
And the winner is Kris Allen!!!!!!!!!!
The Next American Idol is Kris Allen!!!!!!!!
And he closes the show singing No Boundaries!!!!!!!!
Are you as happy as I am hearing that Kris Allen is the next American Idol?
Comments
comments