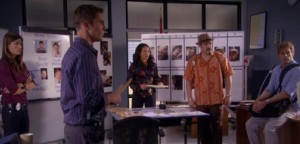 We are reviewing all the cancelled shows and renewed shows of the season.
This fall season, a lot of shows are falling like crazy. NBC already cancelled Outlaw, ABC Family cancelled Huge, Fox cancelled Lone Star, ABC cancelled My Generation, and also cancelled The Whole Truth, and MTV cancelled The City in its second season, and HBO cancelled Big Love at its fifth and NBC cancelled Undercovers, and Supernanny gets cancelled so Jo Frost can move on, and Disney cancelled Jonas LA, or the sad sad news about Rubicon getting cancelled, and the cancellation for Medium and Dark Blue, even Cartoon Network cancelled Unnatural History, a show that looked good, and the one that hurts most, cancellation of Terriers.
Some are getting renewed, since HBO renews Eastbound & Down for season three, and also renews Bored to Death for season three and TLC renewed Sister Wives, and NBC renews Days of Our Lives and a double season renewal for 30 Rock, Fox renews The Simpsons where TruTV renewed Hardcore Pawns and TLC renewed Freaky Eaters. Meanwhile Syfy renewed Fact or Fake: Paranormal Files and also renewed Hollywood Treasure and Ghost Hunters International, while Disney XD renewed Pair of Kings.
This time, the no brainer announcement. Dexter is renewed for a sixth season by Showtime. Duh!
How could it not be renewed if it´s one of the best shows on TV right now, and numbers go along with that statment.
Dexter Renewal for sixth season announcement was made today by David Nevins, President of Entertainment, Showtime Networks.  Season 6's episodes will go into production next spring in Los Angeles.
"Dexter is the best suspense drama on television," said Nevins.  "To grow its audience so significantly in its fifth season is an enormous accomplishment by this amazing cast and crew.  This is the easiest decision I've made since I got to Showtime."
One of the most acclaimed series on television, DEXTER received seven Primetime Emmy Award nominations this year, including Outstanding Television Drama Series, Outstanding Lead Actor in a Drama Series for Michael C. Hall and Outstanding Guest Actor in a Drama Series for John Lithgow, which Lithgow won.  Additionally, director Steve Shill won the Emmy for Outstanding Directing for a Drama Series.  The series has received numerous Golden Globe nominations, as well as a prestigious Peabody Award in 2008 and was twice named one of AFI's top ten television series.
In the episode where Lumen and Dexter kiss and have sex for the first time, had its second highest ratings ever with this season's tenth episode (Nov. 28), delivering 2.54 million viewers, up 43 percent versus the season five premiere (1.77 million). The telecast was the second-highest delivery in the series' history, behind the season four finale (2.57 million).?
So, as I said, a no brainer. It was just missing the official confirmation that came today with the announcement of Showtime renewing Dexter for a sixth season.
Are you happy Showtime renewed Dexter for season 6? Let me know in the comments section.
Also, remember to follow me on Twitter for more Cancelled and Renewed Shows News, such as this renewal for Dexter.
Comments
comments