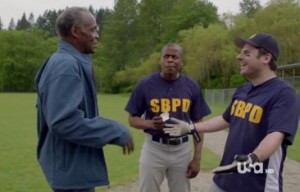 A new episode of Psych tonight. You know how much I love Psych already, don´t you?, I said it when Psych season six premiered, I said it on Last Night Gus Episode and I said it on This Episode Sucks and when we saw Tap Man and The Catch.
Well, so then, a new episode of Psych is something good for me, and hopefully for you too. Therefore, I hope you enjoy my review of Psych S06E05 Dead Man´s Curvebal!
First of all, how not to enjoy an episode that features Danny Glover as guest star? Also joining as guests are Michael Trucco and Matt Kaminsky.
Best Quotes and Spoilers from Psych S06E05 Dead Man´s Curveball
Shawn: I´ll definitely won´t grab my crotch so many times during games. It´s weird
Shawn: Last week you confused me with Michael Chiklis
Henry: That´s because you were dressed like Michael Chiklis
Gus: I can´t believe you talked me into this
Shawn: Why did he leave those out?
Gus: Because he is dead, Shawn
Shawn: That´s no excuse, Gus
Shawn: That´s a photo of him and Tino Jackson
Gus: Why are you talking so fast?
Shawn: Why are you hearing so slow?
Jules: What is wrong with Shawn?
Gus: He accidentally ingested speed
Shawn: These things really slap you on the way down
Shawn: Gus, Don´t Be Pete Rose´s haircut
Gus: I will not let you touch my urine
Shawn: You are not the friend I thought you were
Gus: You are not a real coach
Shawn: You are not a real person
Gus: You know what sucks? Being a classically trained tap dancer that is forced to dance the Macarena in front of liquored up townies in a fleece infested Seabird suit
Shawn: I believe in a lot of things: fresh tennis balls, the healing power of bunnies, and that the novels of Susan Sontag are something I´ll never read. I don´t even know who Susan Sontag is
Shawn: I believe in the movies of Val Kilmer, although these days it´s not that easy… the first season of Silk Stalkings
Danny Glover as Mel: I´m too old for this crap!
Cal: I´m back from being your idol to cold blooded killer again, huh?
Shawn: Just like OJ and Jamie Farr
Cal: Jamie Farr never killed anybody, Shawn
Shawn: You are so naive
Shawn, posing as Gus as the mascot: Did you hear about Pluto?
Shawn: I guess injurying him would be too Tonya Harding-ish
Henry: When is Steve Garvey getting in the Hall of Fame?
Nicknames from Psych S06E05 Dead Man´s Curveball
Shawn is called "Towel Boy" by one of the Seabirds
Gus is Sammy the Seabird mascot
What did you think about Psych Dead Man´s Curveball? Let me know in the comments section.
Also, remember to follow me on Twitter for more Psych scoop and spoilers.
And you can also check other Psych tidbits, such as Shawn and Gus Nicknames, Psych Pop References from season 1, Psych Pop References from season 2 an interview with James Roday and Dule Hill I did, among others.
Comments
comments