Borgia premiere is getting closer and closer, imagine how close it is, it appears on this week´s must watch on TV.
Let´s remember they already announced Emmanuelle Chriqui to play a guest star role, a little later the show announced Jeremy Irons will play Rodrigo Borgia, Pope Alexander VI, and Colm Feore will play Cardinal Della Rovere. And Joanne Whalley is cast as Vanozza Dei Cattanei in The Borgias. Even François Arnaud is Cesare Borgia & David Oakes is Juan Borgia.
Now we get another great Showtime Casting in The Borgias: Holliday Grainger joins as Lucrezia Borgia and Lotte Verbeek as Guilia Farnese
Pope Alexander VI's (Jeremy Irons) beloved daughter, Lucrezia, although only 12 years old when the story begins, is already seen as a potential connection to a powerful family that could help strengthen the Borgias' political position.  Soon, she is wedded to the esteemed Giovanni Sforza, whose family controls Milan, one of the Italian peninsula's five powerful city-states.  Meanwhile, the new woman in the Pope's life, Giulia Farnese, is installed in the late Cardinal Orsini's (Derek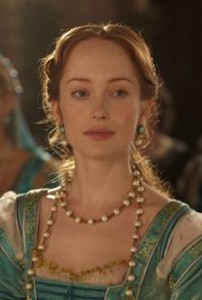 Jacobi) palace, complete with a secret tunnel leading directly into the Vatican for late-night rendezvous.  Lucrezia forms an attachment to the glamorous Giulia, finding herself caught in an emotional minefield between the new mistress and her displaced mother, Vanozza (Joanne Whalley).  Their friendship grows and soon, Giulia teaches the innocent and naïve Lucrezia that women may seem like powerless pawns, but their beauty, seductive charm and political acumen can be used to steer decisions and situations that ultimately could change the face of history.
Remember to Tune in to the 2-hour premiere of The Borgias on Showtime, Sunday, April 3rd at 9PM ET/PT.  Following the premiere, new episodes will air on Sundays at 10 PM ET/PT.
Will you watch it? Let me know your thoughts in the comments section.
Also, remember to follow me on Twitter for more Borgias scoop.
Comments
comments